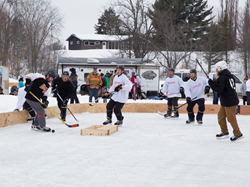 "Pond hockey seems a perfect venue to blend a love of winter sports with a chance to help total strangers living in a far different environment."- Jon Scally, tournament organizer.
GRAND RAPIDS, Minn. (PRWEB) December 11, 2017
Amateur hockey teams from around Minnesota will play a unique role in the development of water wells for people desperately needing clean drinking water in Africa. Organizers of the annual Northwoods Pond Hockey Tournament today announced registration details for the third annual event, which is designed to get people outside to enjoy Minnesota's premier winter sport in its authentic setting – a frozen lake.
The all-day Northwoods Pond Hockey Tournament is scheduled for Saturday, February 10, from 8 am to 7 pm. This year's event will take place on McKinney Lake, adjacent to the IRA Civic Center in Grand Rapids.
Billed as a fun, entertaining event for players and teams of all skill levels, the event has quickly grown to be among the more popular pond hockey tournaments in northern Minnesota. With exceptional fan support, it has also developed a base of community giving to help charitable organizations. This year, the charitable giving expands internationally with the bulk of money raised destined for WorldServe International, which brings clean, safe drinking water to East African communities.
"Minnesotans love to get out and enjoy the winter, and they love helping people in need," said Megan Christianson, executive director for Visit Grand Rapids. "This year, participants and fans can do winter differently by embracing our wonderful winter environment while making a crucial impact for people in desperate need thousands of miles away."
According to WorldServe, in Ethiopia alone, one in five children die due to the lack of safe water. Inspired by such a troubling reality, local organizers created a tournament theme this year 'Turning Ice into Water" to help call attention to needs of others in other parts of the world.
"Pond hockey seems a perfect venue to blend a love of winter sports with a chance to help total strangers living in a far different environment," said Jon Scally, tournament organizer. "Pond hockey underscores the essence of community – it's much like the notion of grabbing a cup of coffee with a friend and provides a great excuse for people to get together, have fun and do something good for others."
Tournament Particulars
Organizers have established three skill-based tournament brackets to accommodate a total of 48 teams for the one-day event. With gold, silver and "last pick" divisions, the event is truly designed for all players, from beginners to seasoned hockey fanatics.
Registration runs from now to January 22, with first-come/first-serve prioritization. Teams are encouraged to register sooner rather than later to secure their berth for the event.
Tournament details, including registration forms and sponsor opportunities can be found at http://www.pondhockey.graog.com/.
A portion of proceeds raised will be earmarked for local charitable cause to be chosen by the winner of the Last Pick division.
About Visit Grand Rapids  
Visit Grand Rapids is the official destination marketing organization for the Grand Rapids, Minnesota, area. Visit Grand Rapids was founded in 1983 as a 501(c)(6) non-profit business association, with the objective to promote the Grand Rapids area as a destination for conferences, conventions, events, group tours and leisure travelers, thereby enhancing the economic growth of the area through travel and tourism. Visit Grand Rapids' mission is to generate a positive economic impact through travel and tourism. For more information, visit http://www.visitgrandrapids.com.