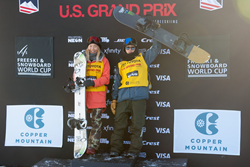 I almost cried, but my mascara is still on so I'm ok - Chloe Kim
COPPER MOUNTAIN, Colo. (PRWEB) December 12, 2017
Monster Energy congratulates snowboarders Chloe Kim and Ayumu Hirano on their respective victories at the Toyota U.S. Grand Prix of Snowboarding. The first major competition on US snow this season saw both Kim and Hirano demonstrate why most consider them the two most progressive halfpipe riders on the scene today.
All eyes were on the Woodard Super Pipe in Copper Mountain, Colorado on Saturday as Olympic hopefuls from around the world competed in the second of five qualifying events for the 2018 Winter Olympics to be held next February in PyeongChang, South Korea. With room on each team for just three riders, competitive spirits were high and the tension was palpable as the competition began under sunny skies and mild temps.
With a new format this year, heats would alternate between the men and women until all six runs were complete (3 each), with the top single score taking victory. Up first were the women and it didn't take long for Kim to pick up where she left off last season — on top.
Dropping next to last and wearing the coveted yellow bib signifying her points lead on the tour, Kim had the benefit of watching other riders go first before she sized up the pipe. Bobbing her head and checking her headphones she then turned her board and gained all the speed she could for her first hit, a massive, double overhead backside air that would make any snowboarder envious of her talent. Next up, on her frontside wall she unloaded a frontside 1080 with a tail grab, a trick that with both amplitude and style sets her apart from the other women riders. With just three hits left she floated a cab 900 Indy into a clean frontside 540 before finishing her run with a proper McTwist at the bottom of the pipe.
Collapsing to the ground in apparent relief after unstrapping in the corral she then popped up and waited for her score. A minute later the judges awarded her a 93.75, a score she would hold onto through the competition to win the event convincingly.
"I almost cried," she professed after the run, laughing, "But my mascara is still on so I'm ok!"
For Hirano meanwhile, it was his second run that landed him the victory.
Gunning for his first hit, the Japanese rider's small stature and expert use of the transitions make for one of the most extraordinary styles of any rider in the field. Using this to his advantage he shot out of the 22-foot pipe another 21-feet kicking out a method — arguably the biggest air of the day. Now, with even more speed he wound up toward his frontside wall and unleashed a 1440 Japan grab, flying 20 plus feet down the pipe. To put the nail in the coffin he then lined up back-to-back double cork 1260's (one regular, one switch) before capping off his run with a backside 900.
Already standing atop the leaderboard, Hirano stood and watched as the scores came in at more than enough to beat his fist run, landing an impressive 92.25.
For the 19-year-old Hirano and Kim, who is just 17, this was an important win on the road to PyeongChang as they score valuable points towards a spot on their respective Olympic team's. Both riders are at the absolute top of their game right now and with the second qualifiers just a week away at the Dew Tour in Breckinridge these Monster athletes just took their first steps toward Olympic glory.
Download images here for editorial use only.
Find more information on http://www.monsterenergy.com and make sure to follow Monster Energy's Facebook, Instagram & Twitter for exclusive updates.
For interview or photo requests contact Kim Dresser.
About Monster Energy
Based in Corona, California, Monster Energy is the leading marketer and distributor of energy drinks and alternative beverages. Refusing to acknowledge the traditional, Monster Energy supports the scene and sport. Whether motocross, off-road, NASCAR, MMA, BMX, surf, snowboard, ski, skateboard, or the rock and roll lifestyle, Monster Energy is a brand that believes in authenticity and the core of what its sports, athletes and musicians represent. More than a drink, it's the way of life lived by athletes, sports, bands, believers and fans. See more about Monster Energy including all of its drinks at http://www.monsterenergy.com.