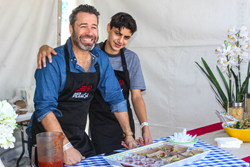 We are proud to support organizations like Special Olympics Southern California that foster change, inclusion and bring communities together
FORT LAUDERDALE, Fla. (PRWEB) December 12, 2017
ChefUniforms.com, a leading manufacturer and distributor of high-quality chef and hospitality apparel worldwide donated forty-five customized aprons with dual logo embroidery to help benefit the athletes of Special Olympics Southern California.
Pier del Sol is a unique day of entertainment on the historic Santa Monica Pier and Pacific Park®. The event, hosted annually in October, fuses together a culinary festival with a backyard private Amusement Park experience. Attendees enjoy an exclusive brunch featuring mouthwatering tastings from more than 35 of L.A.'s top chefs and restaurants, entertainment, music, arts & crafts, games, and unlimited rides at Pacific Park.
The Special Olympics Southern California's vision is to promote acceptance, inclusion, and well‐being for people with intellectual disabilities through sports. The Pier Del Sol event brings their mission and vision together with the addition of gourmet food and fun activities.
"Our company values completely align with those of the Special Olympics Southern California. We are proud to do our part and support organizations like Special Olympics Southern California that foster change, inclusion and bring communities together," said Lori Dunlap, V.P. of Marketing for ChefUniforms.com.
All proceeds from this event benefit the athletes of Special Olympics Southern California. To learn more or donate please visit the Special Olympics Southern California https://www.sosc.org.
About ChefUniforms.com
ChefUniforms.com is an apparel brand that manufactures and distributes high quality culinary and hospitality apparel worldwide. Chef Uniforms remains determined in their mission to provide a large selection of innovative high-quality chef apparel at the best prices. Chef Uniforms corporate office is based in Fort Lauderdale, Florida with a distribution center near Atlanta, Georgia. For more information, visit http://www.chefuniforms.com. Follow Chef Uniforms on Facebook and Instagram.
About Special Olympics Southern California
Special Olympics Southern California enriches the lives of athletes with intellectual disabilities through sports, health, and leadership programs. Special Olympics helps athletes become more independent, build self-esteem, and live healthier lives. They inspire people to open their hearts and create more accepting and inclusive communities. All Special Olympics programs are free to the athletes and their families. Special Olympics Southern California has earned a 4-star ranking from Charity Navigator for exceeding industry standards. This ranking is the highest Charity Navigator offers to an organization and is given because Special Olympics has demonstrated strong financial health and a commitment to accountability and transparency. Learn more at http://www.sosc.org.