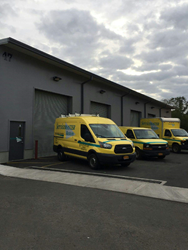 New York City, NY (PRWEB) December 13, 2017
ServiceMaster Restoration by Complete is a trusted provider of disaster restoration services for Staten Island and Brooklyn, NY, as well as the nearby areas of northeastern New Jersey. They recently moved into a new facility in Staten Island, NY with new offices and a warehouse to store their vehicles and equipment. Their new facility is centrally located in their service area so that they can quickly respond to emergency situations in Staten Island, Brooklyn, and New Jersey.
The new facility for ServiceMaster Restoration by Complete contains enough space to house their offices and store their equipment from their dehumidifiers for water damage restoration and other restoration equipment to their vehicles. The centralization of their offices and warehouse makes it much easier for their staff to coordinate their operations and dispatch a team of equipped technicians very quickly. ServiceMaster Restoration by Complete has a large service area and it is important for them to be able to store large amounts of equipment and have space to provide content restoration on-site.
About RestorationMasterFinder.com
RestorationMasterFinder.com, or RMF, is a lead generation website built and operated by Proceed Innovative to provide relevant, cost effective leads for listed businesses of the disaster restoration, furniture restoration, and cleaning industries. RMF consists of geographically based micro-sites that help attract local search traffic to these service pages which increases the number of quality sales leads and helps boost conversion rates. The micro-sites of RMF are visible on major search engines including Google, Bing, and Yahoo, as well as many local, vertical, and social media web portals.
About ServiceMaster Restoration by Complete
ServiceMaster Restoration by Complete has been providing disaster restoration and cleaning services for the homes and businesses of Staten Island and Brooklyn, NY, as well as northeast New Jersey since 2001. Their technicians are highly trained and certified to provide a range of disaster restoration services and they respond within 1-2 hours of your initial call. ServiceMaster Restoration by Complete is also part of ServiceMaster's nationwide catastrophic response network that responds to large losses anywhere in the U.S. Contact ServiceMaster Restoration by Complete to learn more about their disaster restoration services in Staten Island, NY & surrounding areas.