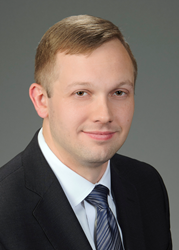 Kevin's strong experience in the wealth management business will be an asset for our team and our clients.
ATLANTA (PRWEB) December 13, 2017
Wilmington Trust hired Kevin Johns as a senior private client advisor in its Wealth Advisory office in Atlanta, Ga. He will provide wealth management advice to high-net-worth clients including families, entrepreneurs, business owners, and foundations and endowments. In his new role, Johns works closely with clients and advisors to develop financial strategies to meet current needs and plan for long-term objectives.
Johns has over a decade of wealth management experience. Prior to joining Wilmington Trust, he was a senior private banker at Wells Fargo. Earlier in his career, he worked in wealth management at Bank of America Merrill Lynch, as well as Morgan Stanley Smith Barney.
"We're excited to continue to expand our Atlanta team with the addition of Kevin Johns," said Todd Tautfest, Wilmington Trust's managing director of Southeast Region Business Development. "Kevin's strong experience in the wealth management business will be an asset for our team and our clients."
Johns earned a master's degree from Stony Brook University, and a bachelor's degree from the University of Buffalo. He is an active member of the Chamber of Commerce for both Cobb and Cherokee counties. Johns is also a member of the Cobb County Kiwanis club and the Young Professionals of Woodstock.
He is based in Wilmington Trust's wealth management office in Atlanta, located at 3280 Peachtree Rd. NE, Terminus 100 Building, Floor 27. He can be contacted at (404)760-2193.
ABOUT WILMINGTON TRUST
Wilmington Trust's Wealth Advisory offers a wide array of personal trust, financial planning, fiduciary, asset management, private banking*, and family office services designed to help high-net-worth individuals and families grow, preserve, and transfer wealth. Wilmington Trust focuses on serving families with whom it can build long-term relationships, many of which span multiple generations.
Wilmington Trust also provides Corporate and Institutional Services for clients around the world.
Wilmington Trust has clients in all 50 states and in more than 90 countries, with offices throughout the United States and internationally in London, Dublin, and Frankfurt. For more information, visit http://www.WilmingtonTrust.com.
MEDIA CONTACT: Kent Wissinger, Wilmington Trust PR Manager (302)651-8758
Wilmington Trust is a registered service mark. Wilmington Trust Corporation is a wholly owned subsidiary of M&T Bank Corporation. Wilmington Trust Company, operating in Delaware only, Wilmington Trust, N.A., M&T Bank and certain other affiliates, provide various fiduciary and non-fiduciary services, including trustee, custodial, agency, investment management and other services. International corporate and institutional services are offered through Wilmington Trust Corporation's international affiliates. Loans, credit cards, retail and business deposits, and other business and personal banking services and products are offered by M&T Bank, member FDIC.
*Private Banking is the marketing name for an offering of M&T deposit and loan products and services.