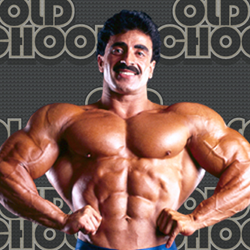 Samir represents everything we admire about the art of bodybuilding.
LOS ANGELES (PRWEB) December 13, 2017
Old School Labs™, makers of the best-selling Vintage line of natural sports supplements, has signed Samir Bannout as a Brand Ambassador. Known as "the Lion of Lebanon," Bannout, who won the prestigious Mr. Olympia title in 1983, is considered one of the greatest bodybuilders in the history of the sport.
"Samir represents everything we admire about the art of bodybuilding," says Old School Labs founder and CEO Tarek Sidani. "Not only was he a dedicated and enthusiastic competitor, but he understood that there's an aesthetic and dynamic aspect to bodybuilding, that it's not just about mass and size."
Born and raised in Beirut, Lebanon, Bannout began lifting weights at the age of 16 and earned his first trophy two years later in the 1974 Teenage Mr. Universe competition. For the next 22 years, he participated in more than 50 competitions and became a bodybuilding icon, renowned in particular for his incredibly developed lower back, which was immortalized as the "Lebanese Cedar." In 2002, he was inducted into the IFBB Hall of Fame, joining such luminaries as Arnold Schwarzenegger, Sergio Oliva, and Larry Scott.
As one of the pioneering bodybuilders in the "Golden Era" of the sport, Bannout, like his contemporaries, was committed to a balanced and healthy lifestyle. It was this orientation that led him to join Old School Labs as a Brand Ambassador.
"Basically, I was tired of supplement companies taking shortcuts and producing inferior products packed with fillers and artificial ingredients," says Bannout. "When I learned about Old School Labs and tried their products, I realized that here was a supplement manufacturer still doing things right. I wanted to join their team as much as they wanted me to join, so it was a great match."
"We are proud of all of our Brand Ambassadors, and we're especially thrilled when legendary figures who we've admired for years join our ranks," says Sidani. "Samir is one of the great ones and we look forward to working with him, not only in promoting our products, but to continue to share the philosophy and ideals of the 'Golden Era' of bodybuilding with athletes around the world."
About Old School Labs™:
Old School Labs™ is the maker of premium supplements that carry on the fitness philosophy of the "Golden Era" of bodybuilding. Old School Labs products do not hide behind proprietary blends, contain no artificial sweeteners or artificial flavors, and are manufactured using only high-quality ingredients. Old School Labs products include Vintage Burn™, a fat-burner designed to help preserve muscle while eliminating fat, Vintage Build™, a 3-in-1 muscle-builder, and Vintage Blast™, the world's first two-stage pre-workout. Old School Labs has been featured in prominent publications including L.A. Confidential Magazine and Haute Living Magazine.