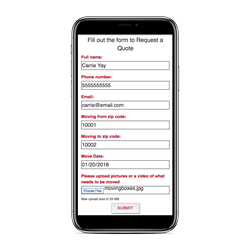 "Allowing smart and technically advanced Mobile On-Demand solutions like the new image/video upload from Zappix saves time, improves quality, and provides a high return on investment (ROI)."
NEW YORK (PRWEB) December 13, 2017
The new image and video upload capabilities from Zappix allows Moishe's NYC Movers the ability to offer their customers a better way to interact with them; compared to the old voice menus. They now visually engage customers providing uploading of images and videos during the call. Transforming the Customer Experience (CX) during the booking of a move in a collaborative way with the sales representative using a Visual IVR on their SmartPhone.
Moishe's is a full service moving, storage, and hospitality business and now the first moving company to fully utilize not only a Visual IVR Mobile On-Demand service, but now also adding the Low Effort Interaction of booking with Video and Image uploads to improve Net Promoter Score, Increase Containment Rates, and sometimes even eliminate the need to speak with a Call Center Agent altogether. This Digital Transformation from Zappix allows customers to use their smartphones to visually share all of the details of their upcoming move and better equip Moishe's to get an accurate customer quote.
"This new feature of allowing customers a self-service option of uploading images and videos while using their smartphones, saves us a lot of time and allows Moishe's to continue to offer the best moving service. We couldn't be more excited to be the first in the market to offer omni-channel customer service communication and a way for customers to book a move with a full video and images of what needs to be moved." Nassim Fadida, General Manager, Moishe's NYC Movers.
"The Innovation and Technology of the Zappix Visual IVR paired with the enhanced mobile self-service method of unlimited video and image uploads makes a great solution for all service industries." said Avner Schneur President and CEO of Zappix. "Allowing smart and technically advanced Mobile On-Demand solutions like the new image/video upload from Zappix saves time, improves quality, and provides a high return on investment (ROI)."
##
More About Zappix
The Zappix Cloud-based Visual-IVR platform is a SaaS (Software as a Service) solution for web or cross-OS mobile app, omni-channel, customer service communications. It allows companies to rapidly and cost-effectively deploy a Smartphone Visual IVR app that provides a highly intuitive and extremely interactive customer care experience on Smartphones. Benefits include increasing customer satisfaction and a company's Net Promoter Score™ (NPS), while reducing contact center costs. The superior customer service options of the Zappix Visual IVR delivers uncompromising flexibility on the fly. App content changes can be made and published to web (HTML 5) apps and iOS or Android native apps instantly. Moreover, Zappix's robust API suite provides quick, easy integration with CRM and other systems. The Zappix smartphone visual IVR and mobile self-service solution has grown rapidly and currently provides hundreds of companies with a streamlined way to empower and better serve customers. The continually expanding list of Zappix-supported organizations includes insurance companies, utility companies, banks, internet and mobile service providers, retailers, airlines and government agencies.
For more information about Zappix, visit http://www.zappix.com or contact Sally Cooper, Marketing Manager at 781.214.8124; sally.cooper(at)zappix(dot)com.
##
More About Moishe's Moving Company NYC
Moishe's is a full service moving, storage, and hospitality business. Their moving company serves both individuals and businesses in the New York City area. They offer basic services, such as relocating a home, to more detailed packages that include moving offices and storing wine and fine arts.
Today, Moishe's consists of hundreds of employees, scores of red trucks, and thousands of square feet of storage in more than 10 cities across the nation. Furthermore, Moishe's employs state-of-the-art technologies to assure the safety and security of clients' belongings during relocation and while in storage.
For more information about Moishe's, visit http://www.moishes.com or Call 800-266-8387