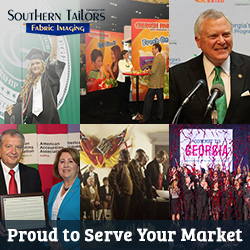 At Southern Tailors, we take pride in exceeding customers' expectations. Each section showcases the diversity of industries that we work with and how we are able to sublimate intricate designs onto fabric
ATLANTA (PRWEB) December 15, 2017
Southern Tailors Fabric Imaging has just launched a new "Markets We Serve" section on its website. The fabric imaging experts proudly serve diverse markets and this new section will guide customers through the company's product lines in each of its niche markets.
Since its inception, Southern Tailors has a collective experience for each of these markets. They understand the intricacies of digital fabric printing and make every effort to get the job done right the first time. They strive to provide the best customer service. The new section on their website is created for that reason.
The newly launched "Markets We Serve" page consists of subsections to provide information and showcase the work the company has done for Education, Corporate, Government Agencies, Non-Profit Organizations and the Entertainment Industry. The new page displays their work for Special Events, where Southern Tailors Fabric Imaging shows its versatility.
"We wanted to offer those who visit our page a clear view of our work and show them what we can do for them. At Southern Tailors, we take pride in exceeding customers' expectations. Each section showcases the diversity of industries that we work with and how we are able to sublimate intricate designs onto fabric," said Neal A. Zucker, President of Southern Tailors Fabric Imaging.
In each subsection of the "Markets We Serve" page you will find information and samples of their work.
Southern Tailors Fabric Imaging is the largest provider of Gonfalons and Commencement Banners in the U.S. They work with government bodies at different levels, from municipal to federal agencies, which has given them an understanding of the bidding process. They also work with non-profit organizations, helping them with fundraising and other events.
Southern Tailors Fabric Imaging can create fabric props to suit the needs of any business. Through Dye Sublimation and expert finishing, they produce a variety of products such as Backdrops, Retractable Banners, Table Draping, Runners, Soft Signage, Portable Displays, Podium Banners, and specialty fabric imaging for tradeshows, meetings and conferences, and general displays.
The company also has taken part in several TV and movie productions such as Drumline, Bad Girls, and The Hunger Games, to name a few.
But there is no need to worry if you can't find your industry niche in the new "Markets We Serve" section. Southern Tailors excels at accommodating the needs of their clients and they are never afraid to take on a challenge. Their creativity shines when they are catering to special events. More importantly, because of in-house capabilities, they can ensure that your specifications are being met.
Southern Tailors Fabric Imaging, headquartered in Atlanta, Georgia, is recognized for its fine fabric imaging. The company serves all the sectors mentioned above, providing excellent service and top-quality products. To learn more about the company and its products, visit http://www.southerntailors.com. As you have any questions, you can contact the company by calling (404) 367-8660 or toll free at (877) 655-2321.