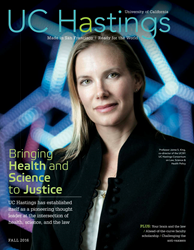 "UC Hastings, the award-winning magazine published by UC Hastings College of the Law in partnership with DCP, continues to raise the bar higher with each issue," - Deborah Kirk, editorial director of Diablo Custom Publishing
WALNUT CREEK, Calif. (PRWEB) December 14, 2017
Diablo Custom Publishing (DCP) was honored with a 2017 Pearl Award for its client work with UC Hastings College of the Law. DCP was awarded the 2017 Silver Pearl Award in the education category.
"DCP has been our content development partner on 17 issues of UC Hastings magazine for over a decade," said Alex Shapiro, Director of External Relations at UC Hastings College of the Law. "They consult, write, design, project manage, and print our magazine. They have at their disposal extensive photography and writing resources skilled in our subject matter. They actually feel part and parcel to UC Hastings with their institutional knowledge and expertise in legal affairs. We believe DCP has helped us bring our magazine to a whole new level of advancement."
UC Hastings magazine highlights the law school's core offerings, which emphasize the way law is practiced today and provide hands-on opportunities for students. The magazine's editorial and design reflect the school's unique mix of academic and real-world programs, including clinics, externships, professional skills teams, exchange programs, and interdisciplinary studies, among many others. Timely features and profiles of important alumni and faculty underscore the law school's prominence and far-reaching impact. The primary audience for this publication includes alumni, students, prospective students, faculty, and administration, as well as deans and faculty from other law schools.
"UC Hastings, the award-winning magazine published by UC Hastings College of the Law in partnership with DCP, continues to raise the bar higher with each issue," said Deborah Kirk, editorial director of Diablo Custom Publishing. "The publication successfully finds fresh ways to serve its community of readers —alumni, students, faculty and staff, and friends — with thought-provoking and relevant content as well as compelling photography and design."
The Pearl Awards have celebrated the best in content marketing from around the world since 2004. Each year, winners are selected from entries submitted by leading brands, publishers, and agencies. Experts judge entries simultaneously in different locations and consider overall effectiveness, creativity, and appearance, among others. The Content Council, the premier nonprofit organization representing global content marketers as the definitive resource for content marketing insights and thought leadership, presented the Pearl Awards on Thursday, December 7, 2017, during a ceremony and Winter Conference hosted by Good Housekeeping at Hearst Tower in New York.
ABOUT DIABLO CUSTOM PUBLISHING
Diablo Custom Publishing(DCP), a leading custom publisher based in the San Francisco area, provides complete print, online, and mobile custom publishing services to a diverse group of clients, including top-level organizations in the health care and higher education industries, as well as in arts and entertainment, sports, and technology. With more than 30 years of experience and an award-winning creative team, DCP develops integrated marketing solutions that help companies communicate brand value, deepen customer loyalty, and increase revenue. To learn more about custom publishing, visit dcpubs.com.
ABOUT DIABLO PUBLICATIONS
For over 38 years, Diablo Publications, an employee-owned company, has been creating award-winning publications, including Diablo magazine, Napa Sonoma magazine, Diablo Weddings, Diablo Arts, Concierge Wine Country, and the Tri-Valley California Visitors Guide. Diablo Publications' custom content division, Diablo Custom Publishing (DCP), provides complete print and online marketing communications and customer publishing services for corporate clients nationwide. For more information visit diablomag.com to view our retail publications and dcpubs.com to learn more about custom publishing.