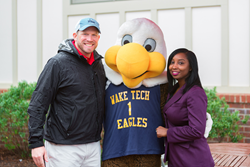 "I am proud to see all of the hard work and support from so many of our partners that is directly impacting our community," said Paul Sullivan.
DURHAM, N.C. (PRWEB) December 15, 2017
Gilbane Building Company hosted their first North Carolina Charity Golf Tournament at the Lonnie Pool Golf Course in Raleigh, North Carolina. The event raised funds and awareness for Fostering Bright Futures, a local program designed to help young adults in Wake County transition out of foster care programs and earn a degree or employable skill through Wake Technical Community College. This year the event, which attracted support and participation from a variety of local businesses, raised $40,000.
"I am proud to see all of the hard work and support from so many of our partners that is directly impacting our community," said Paul Sullivan, Gilbane Building Company vice president and North Carolina business unit leader.
"We are so grateful for community partners like Gilbane," says Matt Smith, executive director of the Wake Tech Foundation. "They understand our mission of providing education and training to the community – including those who have traditionally been left behind. This event generated much-needed funding for Fostering Bright Futures and raised awareness among many who will be important future advocates for this incredible program."
All proceeds from the event will directly benefit Fostering Bright Futures, which offers financial support, career counseling and individual mentors to guide students to work towards a college degree.
About Gilbane Building Company
Gilbane provides a full slate of construction and facilities-related services – from pre-construction planning and integrated consulting capabilities to comprehensive construction management, close-out and facility management services – for clients across various markets. Founded in 1873 and still a privately held, family-owned company, Gilbane has 48 office locations around the world. For more information, visit http://www.gilbaneco.com.
About Fostering Bright Futures
Wake Tech's Fostering Bright Futures program supports former foster youth in pursuing education and independence. The program is a public-private partnership that provides these young men and women with the tutoring, mentoring, and financial resources they need to earn an education at Wake Tech. It has helped many beat considerable odds, realize personal dreams, and lead happier and more productive lives.
Fostering Bright Futures began in 2008 and currently has 30 students enrolled. To date, 10 students have earned an associate's degree; six have transferred to universities and three are working in their chosen fields (dental assisting, plumbing, and banking). Three students are expected to graduate in May 2018.
The Wake Tech Foundation partners with private entities and individuals to raise awareness, financial resources, and other assets to support the mission of Wake Tech Community College.
For more information: fosteringbrightfutures.waketech.edu .