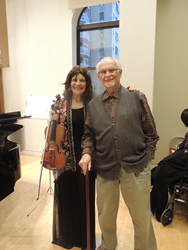 NEW YORK (PRWEB) December 14, 2017
On a recent Sunday morning, DOROT's auditorium was lined with rows of chairs rather than remaining empty for the weekend. That afternoon, older adults began to fill the seats, full of anticipation for DOROT's annual Piatigorsky Foundation concert, generously sponsored by the Ernst C. Stiefel Foundation. Once a year, this program brings renowned musicians to DOROT for a professional-grade, highly accessible classical music concert. While each concert is beloved, this one was particularly special; it marked the beginning of DOROT's new Sunday and evening programming, an initiative created to alleviate the social isolation of older adults known to be pervasive at these times.
When every seat was filled, violinist Linda Rosenthal and pianist Maxim Pakhomov took to the stage. Together they enchanted the audience with works by Brahms, Handel, Chopin, and Bartok. To the guests' delight, the concert concluded with a lively Fiddler on the Roof medley. After the performance, the seniors had the chance to spend time with Ms. Rosenthal and Mr. Pakhomov, asking questions and sharing their deep appreciation of the event.
Expanded Sunday and evening programming such as the Piatigorsky concert was the focus of DOROT's recent #GivingTuesday campaign, during which over $30,000 was raised to set the program in motion. As the evening or weekend comes and businesses close their doors, opportunities for engagement for vulnerable older adults sharply decrease, heightening feelings of isolation and the devastating health effects it brings. After expressing how much she enjoyed the concert, Ms. B shared that "Sunday is very long for me." Ms. M agreed, adding, "As you get older, the whole weekend feels longer." Through programs including outings, intergenerational activities, and more concerts, DOROT will continue providing meaningful engagement and means to combat the isolation people like Ms. B and Ms. M experience during these traditionally secluded parts of the week.
About DOROT
DOROT is a social service agency dedicated to alleviating social isolation among older adults by providing services to help them live independently as valued members of the community. For more than four decades, DOROT has been an innovative leader in the fields of aging services and volunteerism.