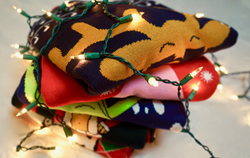 We hope this will inspire people to get in the holiday spirit and spread the ugly!
BOSTON (PRWEB) December 15, 2017
Get Ugly Sweaters, a new up-and-coming holiday sweater company is getting ready for one of the best holidays of the season. Next to Christmas and Hanukkah, National Ugly Sweater Day comes close in third place for this Boston company.
"We love celebrating, so being able to celebrate something that's such a huge part of us right now is so much fun," says team member Mercedez Lemieux. "We wanted to show some appreciation for the people who have supported us along the way in honor of it all."
For the entirety of December 15th, Get Ugly Sweaters will be selling all of their sweaters for $35 and will include free shipping guaranteed to arrive by Christmas.
"We hope this will inspire people to get in the holiday spirit and spread the ugly!" Lemieux adds.
Get Ugly Sweaters has quickly gained popularity this holiday season for its comical themes, comfortable quality product, and enthusiasm to give back to the community- every sweater purchased feeds 14 people in need through Project Bread. Their 14 original designs range from naughty, to nice, to even a bit political. They've grown in success in just two months, contributing to the ugly sweater craze.
The $35 deal will last for one day only, and can be purchased on their website getuglysweaters.com
Get Ugly Sweaters is a Boston-based clothing line for those people who want to make a statement wherever they go. It was born from the idea that people are born innately creative and with a sense of humor. Get Ugly Sweaters strives to be the life of the party, whether at your office Christmas party or on college campuses. Furthermore, Get Ugly Sweaters is dedicated to helping end hunger by feeding 14 people in need with the purchase of every sweater. To learn more about the brand, shop their styles, or to hear more about their partnership with Project Bread, please visit their website at https://getuglysweaters.com.