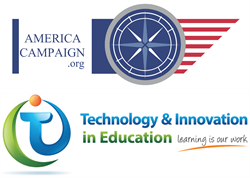 MISSOULA, Mont. (PRWEB) December 18, 2017
America Campaign and Technology & Innovation in Education (TIE) are proud to announce the launch of Teachers Teaching Tech, a joint partnership with Code.org to provide computer science professional development to K-12 educators in Montana, South Dakota, Wyoming and North Dakota. The Teachers Teaching Tech initiative will raise awareness of the importance of computer science education in these four states and will work with local school districts to recruit and train 6,000 new computer science teachers by Fall 2021.
This multi-year partnership with Code.org puts a national spotlight on the growing computer science education movement in rural states and communities. Through this partnership, Code.org will invest more than $615,000 over the next 3 years to support the professional development of K-12 teachers in the Teachers Teaching Tech region.
"We are excited to grow our relationship with Code.org and to be working with our new partner Technology & Innovation in Education to expand the partnership in our neighboring states." said Devin B. Holmes, Founder of America Campaign, "After a successful first year as Code.org's Regional Partner in Montana, we now have over 60 teachers and over 11,000 K-12 students studying Computer Science in Montana, an increase of almost 400% from 2016. By continuing to bringing Code.org curriculum to teachers and schools, we will be able to better prepare K-12 students in Montana, South Dakota, Wyoming and North Dakota for the jobs of the future"
"Our partnership with America Campaign and Code.org allows us to substantially grow the effort to bring quality computer science learning experiences to students in the region. In the last year, TIE provided free training to nearly 1000, K-5 classroom educators in South Dakota. The four state partnership allows us to expand the outreach to additional grade levels in and beyond South Dakota. By capitalizing on the high quality, free Code.org curriculum and training provided by our organizations, schools have an easy entry point into the realm of computer science. The outreach provided by the partnership is a key component of addressing essential workforce needs in the region," said Julie Mathiesen, TIE Director.
"Code.org is proud to partner with America Campaign and Technology & Innovation in Education (TIE) to expand access to computer science in Montana, Wyoming, North Dakota, and South Dakota at a time when the majority of K-12 schools still don't offer it," says Hadi Partovi, CEO and Founder of Code.org. "By offering Code.org Professional Learning Programs, America Campaign and TIE will give teachers the tools and support they need to introduce foundational 21st-century skills into their classrooms and put all students on a path to success in today's high-tech world."
To learn more about Code.org's Regional Partner program, visit: https://code.org/educate/regional-partner
About Teachers Teaching Tech™
Teachers Teaching Tech is a joint partnership between America Campaign, Technology & Innovation in Education and Code.org. As the Regional Partner for Montana, South Dakota, Wyoming and North Dakota, the Teachers Teaching Tech initiative brings no cost professional development in Computer Science for K-12 teachers to these four states. To learn more, visit: http://www.teachersteachingtech.org.
About America Campaign™
The America Campaign is a national nonprofit focused on improving lives through technology, education and the arts. Its educational initiatives include the Big Sky Code Academy™, an accelerated coding boot camp offering online and on-site immersive training for the next generation of software developers, Montana Code Girls™, a girls only youth program offering events, after-school programs and summer camps to Montana's girls and young women interested in technology and most recently Teachers Teaching Tech™, a joint partnership with TIE and Code.org to bring K-12 computer science professional development to teachers in Montana, South Dakota, Wyoming and North Dakota. To learn more, visit: http://www.americacampaign.org
About Technology & Innovation in Education
Technology and Innovation in Education (TIE), a division of Black Hills Special Services Cooperative (BHSSC), has provided over 30 years of quality professional development opportunities for educators, with a focus in high-need, rural areas. TIE's purpose is to make a difference in the education environment, by providing quality service, and staying on top of cutting-edge technology and training strategies – Learning is our work. To learn more, visit http://www.tie.net
About Code.org®
Code.org® is a non-profit dedicated to expanding access to computer science and increasing participation by women and underrepresented minorities. Our vision is that every student in every school should have the opportunity to learn computer science, just like biology, chemistry or algebra. Code.org organizes the annual Hour of Code campaign which has engaged 10% of all students in the world and provides the leading curriculum for K-12 computer science in the largest school districts in the United States. To learn more, visit http://www.code.org
###