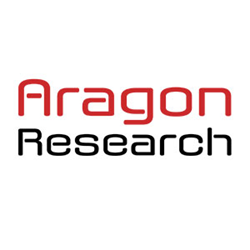 Our top predictions can give organizations a jumpstart when it comes to prioritizing which technologies to leverage first.
PALO ALTO, Calif. (PRWEB) December 15, 2017
Aragon Research Inc. announced its top 2018 technology predictions today. These predictions will allow business and IT leaders to prioritize which technologies to put to work in their enterprise based on their unique business goals, by better understanding where the future of these technologies is headed and how rapidly they are evolving.
"The key is to start small: focus on the technologies that can be tied to your business outcomes, based on your goals," said Jim Lundy, CEO and Lead Analyst at Aragon Research. "Our top predictions can give organizations a jumpstart when it comes to prioritizing which technologies to leverage first. It will be an imperative to invest in your people, too, alongside your technology. Ensuring that your people are learning, refining, and optimizing their digital skillsets is just as important for a successful Digital Transformation as is choosing the technology that best fits the business process."
Aragon Analysts revealed their top technology predictions during The Aragon Research Top 10 Technology Trends for 2018 online webinar held on December 1st, 2017. The predictions are as follows:
By year-end (YE) 2020, the fight for customer loyalty will reach epic levels, making Customer Journey Mapping and monitoring technologies essential organizational competencies.
Great customer journeys find the digital sweet spot between customers and organizations. CJM is about creating continually adapting Customer Experiences that are not bound to "inside out" organizational silos and divisions of labor.
By YE 2019, vendors focusing on Customer Journey Mapping will be in so much demand that the independents will be nearly wiped out by M&As, creating a vacuum.
Leveraging Customer Journey Mapping technologies gives organizations: smarter business automation, faster time to outcomes, and overall grief/friction reduction. All of these translate to profit and market share because customers are retained.
By YE 2020, Digital Business Platforms will be pushing control and intelligence to the edge.
Pushing control and intelligence to the edge will save time, network bandwidth, and will augment devices and nodes.
By YE 2019, Digital Business Platforms will become more intelligent than ever, imagined through the leverage of intelligent devices and super-charged people.
Digital Business Platforms will begin to leverage embedded AI and Analytics to gather large amounts of unstructured information, recognize emerging patterns quickly, augment knowledge beyond base levels, suggest or employ poly-analytics for decisions, and help guide or constrain optimal actions.
By YE 2020, there will be farms of intelligent software bots that will augment micro services, robots, and the IoT.
The demand for productivity and rapid automation has created the emergence of the Robotic Process Automation (RPA) market, which is evolving to address increasing productivity through ever-increasing levels of intelligent automation applied to various ingredients and resources involved with Digital Transformation.
By YE 2018, vendors focusing on RPA will be in so much demand that the independents will be partnering with Digital Business Platform and Business Process Management Vendors.
By studying human decisions and actions on process, processes can be improved to new levels of automation, a key part of the puzzle to Digital Transformation.
By YE 2021, 50% of Enterprises will deploy Content Analytics for a specific business use case.
Content Analytics will be applied to gain horizontal/role-specific insights, such as in Contracts, Procurement, and Corporate Legal, and vertical market-specific insights, such as in Financial Services, High Tech, and Healthcare.
By YE 2022, Audio and Video Analytics will be leveraged in multiple industries to automate business processes and streamline customer journeys.
Content is no longer relegated to text; to get insights from their data, organizations will need to leverage audio and video analytics.
By YE 2023, Deep Learning will be at the Heart of 40% of New Enterprise Applications, Exposing the Value of Proprietary Data.
It will be enabled by emerging de facto and de jure standards for Deep Learning models, meta-models and interoperability.
By YE 2018, Deep Learning platforms will evolve, and explainability issues will be explored, but no single vendor or approach will be dominant.
The major cloud computing providers - AWS, Google, IBM and Microsoft - all offer Deep Learning functionality and will continue to invest in power and ease of use. The inherent difficulty of explaining results once a Deep Learning system traverses many hidden layers can be troubling for applications that require an audit trail or evidence to support recommendations. Look for new features to address this issue for critical applications.
By YE 2023, Cognitive Interfaces with emotion detection for text, voice and facial analysis (and context-appropriate tone generation) will be embedded in 50% of new enterprise applications and available on 75% of legacy Enterprise Apps.
2018 will be the year of the Cognitive Interface—we will see primitive Cognitive interfaces start to appear in enterprise applications.
By YE 2023, Intelligence at the Edge will be the default approach for IoT application development, and 60% of new Enterprise Applications Will Leverage Sensor Data.
Today we start with an assumption of centralized intelligence, with IoT sensors providing unfiltered data. New application design methods will start with intelligence - learning, reasoning and understanding - embedded in the sensors or gateways to enable better decisions with less communications overhead.
By YE 2018, Intelligent Gateways will begin to be deployed at scale, creating a virtuous cycle for distributing the fundamental Cognitive Computing elements.
Making gateways smarter - able to learn, reason and understand data - will simplify 3-tier IoT architectures and distribute cognitive computing advantages throughout applications and enterprises.
By YE 2018, Co-processors - GPUs and TPUs - will be marketed as options on entry-level enterprise devices targeted at AI-powered applications.
Between the gaming laptops and high end servers that already offer optional Graphics Processing Unit (GPU) enhancements, there is a need for servers that can support on-premise development of new AI-powered enterprise applications that leverage data too sensitive for cloud deployment. This will be met by hardware providers with specialized servers.
By YE 2018, Neuromorphic processors will begin to crossover from handset-level curiosities to Edge-level gateways.
The scalable nature and low power requirements of neuromorphic architectures will prompt gateway providers to experiment with them as a way to add intelligence at the edge of IoT-enabled applications.
By 2020, Augmented Reality will be leveraged in both Consumer and B2B applications that enhance the overall experience.
AR will become more pervasive, in applications without the use of camera, with the non-immersive use of camera, and with the immersive use of camera.
Through 2020, the key benefit of Digital Work Hubs will be helping individuals and teams to get more work done in a more automated fashion.
Digital Work Hubs create, curate, and communicate content (images, text, videos, data, audio) inside the enterprise ecosystem to eliminate the need for context switching, allowing productivity to flourish.
By YE 2021, Communication and Collaboration applications will automatically shift modalities to meet the needs of people.
People-centered collaboration will dominate the Collaboration market moving forward, enabling a unified app that is business-system focused.
By YE 2021, the ability to track and recover content will be a key requirement in 50% of enterprises.
Due to data leakage, content awareness and security will become a key concern for enterprises.
To learn more about these predictions, watch The Aragon Research Top Ten Technology Trends for 2018 webinar playback.
About Aragon Research
Aragon Research is the newest technology research and advisory firm. Aragon delivers high impact interactive research, consulting, and advisory services to provide enterprises the insight they need to make better technology and strategy decisions. Aragon Research serves business and IT leaders and has a proven team of veteran analysts. For more information, visit https://www.aragonresearch.com.