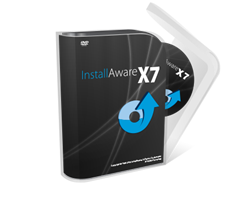 SAN FRANCISCO (PRWEB) December 18, 2017
InstallAware Software, the technology leader in software installation, repackaging, and virtualization solutions for application producers and enterprises, announced today the launch of InstallAware X7. InstallAware is the most flexible platform for traditional and agile development teams creating Windows and Azure software installers, as well as APPX Universal Windows Platform, Microsoft App-V Virtualization, and agentless/royalty-free InstallAware Virtualization packages.
InstallAware X7 takes build agility to unprecedented levels with new command line virtual machine testing, which enables built setups to be unit tested in a fully automated manner, ideal for participating in continuous integration scenarios while retaining very high levels of scalability and resilience.
Also new in InstallAware X7 is Windows Feature and Windows Server Role configuration. Controlled through an interface akin to its natural Windows counterpart, this new configuration mechanism also targets multiple operating system versions and editions simultaneously; enhancing the default Windows process. Of course, intelligent selection of out-of-branch dependencies is also supported.
Another feature making its debut is VBScript support, which opens swathes of COM objects to installation authoring, as well as enabling software developers to leverage millions of online VBScript samples.
InstallAware X7 includes a Suite Installation Wizard for the first time, merging multiple third-party setups into a single master installation program. Each merged setup is associated with a user-selectable master installation feature, along with its own conditions for installation, and its own set of pre-requisites.
All InstallAware X7 components are based on a large memory model, ending dreaded "setup extraction failure" errors. Tools such as PackageAware now support captures on systems with literally millions upon millions of files and registry keys in them, gracefully scaling as demand grows.
The new Download and Run Wizard links to third party servers directly for official application runtime and technology framework downloads, relieving first party server loads and improving setup responsiveness.
The enhanced InstallAware X7 IDE features command search bars and code completion for scripting.
About InstallAware Software
InstallAware Software, founded in 2003, is the leading Cloud Infrastructure Company with its laser sharp focus on bullet-proof enterprise software deployment. InstallAware has been recognized by multiple awards coming from Microsoft, SDTimes "Leader of the Software Development Industry", Visual Studio Magazine Reader's Choice, ComponentSource, WindowsITPro, among other recognition. InstallAware X7 is available in a free edition for all Visual Studio users and paid editions with prices starting at $329. For a fully functional 30-day trial and more information, visit http://www.installaware.com.
MEDIA CONTACT:
Jason Strathmore
InstallAware Software
336 Guerrero
San Francisco, CA 94103
415 358 4094
jase(at)installaware(dot)com
http://www.installaware.com/