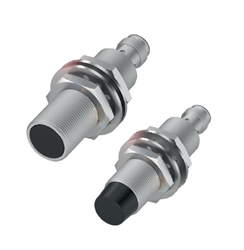 Florence, KY (PRWEB) December 15, 2017
Balluff is pleased to release a new line of M18 Factor 1 inductive sensors for use in the automotive tier supplier market. This portfolio provides extended detection ranges to enhance survivability of sensors in part loading applications, and is available with optional long and short housing form factors. With the addition of these new Factor 1 sensors, Balluff expands its broad product line of problem solving sensor solutions designed for harsh welding applications. This is extremely valuable to tier suppliers as the trend toward automotive light-weighting has increased the use of new metal varieties, aluminum structures and multi-metal assemblies.
"The new M18 Factor 1 sensors provide more flexibility in welding applications where longer sensing ranges are needed or when a customer is working with non-ferrous materials," says Shawn Day, Product Marketing Manager for Object Detection, "and a common application includes mig welding where ferrous or non-ferrous material is used." The new M18 Factor 1 sensors are available with weld spatter resistant coatings and weld-field immune circuitry for maximum protection in hostile welding environments.
The new generation of Factor 1 sensors offer the additional features below:

Extended ranges for ferrous and non-ferrous materials
IP68 for harsh application environments
Weld Spatter resistant coating
Expanded temperature rating (-40…+85°)
About Balluff Inc.: Balluff Inc., the U.S. subsidiary of Balluff GmbH, Neuhausen, Germany, is a leading manufacturer of a wide range of inductive, photoelectric, vision, capacitive and magnetic sensors as well as linear position transducers, RFID systems, and networking products. Balluff products for OEM and factory floor solutions are used to control, regulate, automate, assemble, position, and monitor manufacturing, assembly, and packaging sequences for industries including: metalworking, automotive, plastics, material handling, wood processing, aerospace, alternative energy, medical, electrical, and electronics.