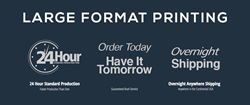 We are doing everything in our power to meet the printing turnaround demands of businesses nationwide.
NEW YORK (PRWEB) December 18, 2017
Printleaf.com, an online commercial printing company, which services businesses nationwide, upgraded their printing services to offer next day and same day production. Printleaf's new service guarantees your large format prints will arrive at your door the next day, via their, "Same Day Production" option or in 2 days via their standard 24 hour production. Business Director, Alex Khaimov was quoted as saying "we are doing everything in our power to meet the printing turnaround demands of businesses nationwide."
It was made clear that trade-shows and marketing events are some of the main reasons that businesses have such a demand for next day delivery. They are very stressful events. Only made worse if your prints won't arrive on time or your brilliant idea came up short notice. Printleaf took this into consideration and now handles all of your printing worries and ensures that all of your large format prints will arrive the next day.
We also found out that Printleaf was driven by the demand of businesses who needed their trade show graphics last minute. They received so many calls from these frantic clients that they finally decided to do something about it. Their advantage is their in house graphic design team, who checks if the files are print ready and can quickly make edits if necessary.
"Customer satisfaction is our top priority" says Khaimov, "it's a great feeling when a customer leaves a positive review saying that we came through for them. Its one last thing they have to worry about."
Large format printing services consist of banners, posters, wall murals, bus wraps, window clings, etc. They enable a brand or business to feature full color graphics of their products or services which can be seen at a distance.
If you are in need of even the most difficult print jobs, such as step and repeat backdrops or retractable banners Printleaf is just a phone call away.
Printleaf assures that your print will be delivered within the allotted 24 hours, so long as your order is placed before 2PM EST the day before.
Consumers of today want to receive their products faster. It's obvious that Printleaf aims to meet that demand within the printing industry, while making it affordable.
It is safe to say that if you are in need in of any digital printing materials tomorrow but you still have not done anything about it, you can still call Printleaf.
Call: (212) 328-1174 or or visit them today at: http://www.printleaf.com