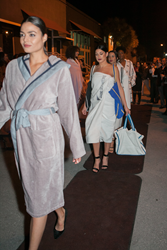 MIAMI (PRWEB) December 20, 2017
Globaltex, a Miami-based fine linens manufacturer introduced their new unisex winter collection of linen and spawear at a recent fashion show this month at Globaltex's Fine Linens Showroom in partnership with Arubian designer, Giglioa Gomez's swimwear.
The new fashion collection consisted of high-end robes that were designed in an array of colors and textures. Some of the main items were a beautiful sky-blue tie dye robe and the classic light and airy Waffle Weave Spa Bathrobe that's all made from 100% organic Turkish Cotton. Other designs in the collection included trendy and posh lounging robes that can easily double as a fashionable wrap, as well as a short-length hoodie robe, designer linen and throws crafted for royalty.
Globaltex is a textile manufacturer of fine linen exporting luxurious linens and designer underwear to France, United Kingdom, Poland, Sweden, Austria, Germany, and of course, The United States. The fashion show that was recently presented not only served as a platform to present the company's new home textile and swimwear line, it was also a way to celebrate their loyal customers from all over the world.
You can find Globaltex's new winter collection at their retail store in Miami or on Amazon.
CONTACT:
RAMAZAN PATAK
President
7245 NE 4th Ave
#105, Miami, FL 33138
786-657-4423
http://www.globaltexusa.com
ramazan(at)globaltexusa.com