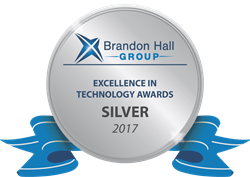 "Waggl is evolving the employee voice process by offering an extremely simple and fun way to crowdsource insight at every organization," said Michael Papay, CEO, Waggl
SAUSALITO, Calif. (PRWEB) December 19, 2017
Waggl, the most human way for organizations to crowdsource feedback, create connection, and align on action, today announced that it was named as the winner of a Brandon Hall Group Silver Award for Excellence as the Best Advance in Assessment and Survey Technology.
"We are honored to be recognized by Brandon Hall Group for our technological advancements," said Michael Papay, CEO, Waggl. "Waggl is evolving the employee voice process by offering an extremely simple and fun way to crowdsource insight at every organization. In the past year, we've achieved tremendous growth, stemming largely from increasing demand for our real-time listening platform, which helps enterprise organizations surface ideas, collect authentic feedback, and build rapid consensus."
Waggl creates a real-time, 2-way dialogue that can be used to create richer connections between individuals, teams, departments, and locations by asking open-ended questions where favorite responses can be voted up. Waggl enables fast, frequent, focused conversation on virtually any topic. It gives people a voice, distills insights, and unites organizations through purpose.
"We use Waggl to collect feedback from our employee base that will continue to help the company become stronger as it grows," said Thomas Mc Shane, CMO, City Electric Supply. "After implementing this new process in an initial pilot program, our turnover rate dropped significantly among pilot participants. We're no longer throwing darts at the wall. We know exactly what we need to focus on and our key points to reference when making improvements for our employees."
Waggl helps enterprise organizations to succeed by addressing a key issue for businesses: employee engagement. According to the last 15 years of research from Gallup, nearly 70% of employees are either not engaged or are actively disengaged, (State of the American Workplace Report, 2017), translating to $605B each year in lost productivity. One of the top causes of this epidemic of disengagement is that employees feel like their opinions don't matter, and that leads to high turnover, low productivity, and worse. Waggl addresses this problem by allowing organizations to communicate continually on issues surrounding culture, events, change, strategy, talent, and more.
"Human capital management is evolving faster than at any time in its history, and it is powered by innovative technology developed and implemented by organizations big and small," said Rachel Cooke, Chief Operating Officer of Brandon Hall Group and head of the awards program. "The technology innovators who won Excellence Awards this year were focused on providing users with a better overall experience. That is what our research says employers want, and our award winners are leading the way."
A panel of veteran, independent senior industry experts, and Brandon Hall Group senior analysts and executives evaluated the entries based upon the following criteria:

Product: What was the product's breakthrough innovation?
Unique differentiators: What makes the product unique and how does it differ from any competing products?
Value proposition: What problem does the product solve and/or what need does this product address?
Measurable results: What are the benefits customers can expect to experience as a result of using this product?
Mike Cooke, Chief Executive Officer of Brandon Hall Group, said, "Our technology award winners are truly outstanding and set a high bar for others. We have learned a great deal from what they have accomplished. The awards programs supplement our quantitative research in providing our team with unique insights to share with our members and clients."
For additional information, please visit Waggl and Brandon Hall Group.
About Brandon Hall Group, Inc.
With more than 10,000 clients globally and 25 years of delivering world class research and advisory services, Brandon Hall Group is the most well-known and established research organization in the performance improvement industry. We conduct research that drives performance, and provides strategic insights for executives and practitioners responsible for growth and business results. Brandon Hall Group has an extensive repository of thought leadership, research and expertise in Learning and Development, Talent Management, Leadership Development, Talent Acquisition and Human Resources. At the core of our offerings is a Membership Program that Empowers Excellence Through Content, Collaboration and Community. Our members have access to research that helps them make the right decisions about people, processes, and systems, combined with research-powered advisory services customized to their needs. (http://www.brandonhall.com).
About Waggl
Waggl is the most human way for organizations to crowdsource feedback. Named after the dance that bees do in a hive to transmit important information very quickly, Waggl lives at the intersection of two organizational realities: Companies want an engaged workforce and employees want to know that their opinions count. Waggl goes beyond the traditional survey by offering an extremely easy way to listen to many voices at once within an organization for the purpose of making it better. Waggl's real-time listening platform creates a transparent, authentic two-way dialogue that gives people a voice, distills insights, and unites organizations through purpose. With a highly seasoned management team and a Board including esteemed executives from Glassdoor, SuccessFactors, and Coupa, Waggl is an innovative industry leader helping companies of all sizes to succeed by building a listening culture. For more information, please visit: http://www.waggl.com/.