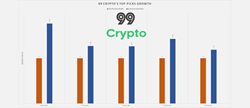 99 Crypto brought on a fresh set of experts; a finance industry veteran and an individual who wrote a 130-page thesis on the economics of blockchain & Bitcoin.
SAN FRANCISCO (PRWEB) December 18, 2017
99 Crypto is a web domain that was first registered in 2011. Within this year, the site has been rebranded and rebuilt to better supply cryptocurrency news to media outlets, investors, and other interested parties alike. The site has brought on a fresh set of experts, including a finance industry veteran and an individual who wrote a 130-page thesis on the economics of blockchain and Bitcoin.
Working together with previous staff, this team has been developing an ever-growing database of information and statistics about this emerging sector. Though largely reporting on updates such as government regulatory news or corporate acceptance or denial of the legitimacy of Bitcoin or Ethereum, 99 Crypto is also very well-versed in ICO research and altcoin analysis.
As a result, the organization put out their picks for the top up-and-coming cryptocurrencies on Dec. 9, 2017. The top three positions went to a decentralized VPN coin, a smart contract security-auditing cryptocurrency, and a blockchain-based legally-binding contract software cryptocurrency. Following the announcement of 99 Crypto's selections, these three averaged growth of over 43%.
What's more is 99 Crypto's top 5 selection all grew by at minimum 19% since the announcement, with the largest growth coming from their #1 pick which reached as high as 76.81% in the 7 days following the announcement.
"Cryptocurrency has been fascinating a small number of us for many years," say a 99 Crypto spokesman. "The fact that it's going mainstream is obviously great for us, but it sort of acts as vindication to show to those who were naysayers previously."
99 Crypto has been growing sharply in readership since their site's redesign earlier this year. The first two weeks of December, for example, have shown an increase in web traffic on 99Crypto.com of over 150% compared to the two weeks prior. The site's social media too has been faring well, as their Twitter and Facebook followings have spiked in recent weeks and months due in part to retweets from prominent crypto-experts like Charlie Lee, the founder of Litecoin.
For more information and up-to-date news, visit 99 Crypto - Cryptocurrency News.