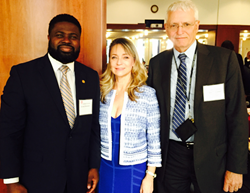 "Today's educational environment is fast-changing. We believe in the importance of highlighting the kind of innovative, collaborative work being done at Fordham to train educators in how to address critical educational needs in K-12 schools in profound and lasting ways." J. Genauer, The JPR Group
MONTCLAIR, N.J. (PRWEB) December 17, 2017
The JPR Group, a public relations and marketing communications firm located in Montclair, NJ, announces the addition of the Fordham University Graduate School of Education (GSE) to its client list. Fordham University Graduate School of Education is recognized nationally and internationally as a leader in building practical, culturally aware skills for teachers, counselors, psychologists, school administrators, and other educational professionals and scholars who serve diverse populations.
"We are very pleased to be able to partner with Fordham's GSE and to promote their presence as a top-ranked graduate educational institution," explains Jeanine Genauer, Principal and Founder of The JPR Group. "Today's educational environment is fast-changing, and we believe in the importance of highlighting the kind of innovative, collaborative work being done at Fordham to train educators in how to address critical educational needs in K-12 schools in profound and lasting ways."
Fordham University is the only Jesuit university in New York and focuses on Cura Personalis, a commitment to educating the whole person. In addition to having a distinguished faculty, top-caliber academic programs, and a global reputation, Fordham pays close attention to the spiritual well-being of every student and the importance of moving beyond the self to serve others.
About The JPR Group, LLC
The JPR Group is a woman-owned business offering strategic, responsive and personalized marketing and public relations solutions for today's rapidly evolving media environment. Jeanine Genauer, Founder and Principal, has been recognized as a Leading Brand Builder by Leading Women Entrepreneurs and the firm is a recipient of New Jersey Monthly magazine's Great Oak Award for charitable and nonprofit work.