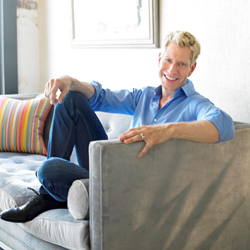 I was inspired to create these pieces by the iconic American musicians, writers and celebrities of the early to mid-20th century whose contributions made the world around them a more beautiful and interesting place.
BOSTON (PRWEB) January 17, 2018
Duncan Hughes, the award-winning interior designer and principal of Duncan Hughes Interiors, has created the Duncan Hughes Collection for Dowel Furniture set to launch at the Las Vegas Market, January 28 through February 1, 2018, Pavilion 2, Design Home P2-7006. This small line of carefully designed pieces incorporates lean silhouettes and clean lines against sumptuous style elements that are sophisticated and provocative yet at the same time casual and graceful. "I was inspired to create these pieces by the iconic American musicians, writers, and celebrities of the early to mid-20th century whose contributions made the world around them a more beautiful and interesting place," says Hughes. "I'd like to think that each one of them — Vaughn, Steinbeck, Hayworth — may have enjoyed this new furniture collection in their own homes."
Reviving the subtle femininity of American mid-century furniture as filtered through the prism of warm masculinity, a duality that marks the Art Deco period, the Duncan Hughes Collection underscores the designer's keen understanding of form and scale. Each piece harmonizes pared-back historic shapes with lavish modernity while glowing with warm woods, metal accents, and rich, luxurious fabrics. "I wanted it all to be able to blend expertly with the furniture styles of today even as it stands on its own," Hughes says.
The nine-piece collection creates a new standard for furniture that is not just wonderful to look at but also ergonomically correct and therefore highly functional, versatile, and, above all, comfortable:
The Vaughn Dining Chair, all about softness and curves at every angle, is meant for long dinners and conversations with close friends and family. "I was driven to create a dining chair with the comfort of my favorite living room chair yet able to take center stage in any room," Hughes says.
The classically proportioned Steinbeck Dining Chair, straightforward as it is graceful, "represents the moment that form meets function," comments Hughes. Long and lavish gold sabots connect to warm woods and luxurious fabric.
Reminiscent of the glamour of the Hollywood of a bygone era though tailored for today, the versatile Hayworth Bench is uniquely sized to anchor a sitting area, become a focal point in an entry hall, or rest comfortably at the foot of a bed, perhaps draped by a peignoir.
Like its namesake, the Gardner Counter Stool is marked by long legs and curves in all the right places. "It was inspired by the feminine glamour, strength, and mystique of our most beloved screen sirens of the 1940s and 50s," Hughes says. Available in both counter and bar heights, this lavish stool is finished in rich wood and flashes of glowing metal.
The Grant Lounge Chair, a modern interpretation of 1930s club chairs, smolders with mystery — masculine proportions juxtaposed against feminine lines. It holds and supports you where it counts.
With its gently fluted edges and spokes of sparkling brass supporting the legs, the just-a-little dramatic Getz Side Table is Hughes' solution to people "in need of a table large enough for today's way of living but without the bulk and heaviness of so many tables on the market." The Danvers Snack Table, by contrast, is just the right size to place a few plates of your favorite hors d'oeuvres and then be moved around the room using the brilliant brass finial in the center.
The Hudson Bar Cart, lean yet sturdy and also cosmopolitan, offers plenty of room for your most prized prized glassware and finest bottles.
Produced by Dowel Furniture, internationally recognized for its stylish, built-to-last furnishings, the Duncan Hughes Collection will be available online at https://www.dowel.furniture and at http://duncanhughes.com. Dowel co-founders and siblings, Ray Hallare and Joanna Hallare Lee, will oversee production of all furnishings within the collection. It can be viewed by the Trade only via appointment at Duncan Hughes Interiors in Boston or by the Trade or the public via appointment at Dowel's Studio in midtown Manhattan. Appointments at Dowel can be made online at https://www.dowel.furniture/pages/visit.
About Duncan Hughes, Duncan Hughes Interiors
http://duncanhughes.com
Celebrated by the press, design blogs, and devoted clientele that include Katherine Heigl, New England Patriot Julian Edelman, and other illustrious clients throughout the U.S., Duncan Hughes' elegant and sophisticated yet always comfortable spaces are routinely praised for their unexpected palettes of color, texture, and light. The Boston-based interior designer's signature is found in the balancing of architectural form and perspective with refined furnishings, fabrics, and carefully chosen objects. Hughes is especially renowned for his eye for layered architectural detail and penchant for elegant, provocative, yet eminently livable interiors.
About Dowel
https://www.dowel.furniture
The goal of online furniture company Dowel, owned by siblings Ray Hallare and Joanne Hallare Lee, is to offer the high-end furniture experience, quality, and service at a fair price. Each piece is handcrafted and sourced directly from the family's factory. Products include made-to-order pieces available in multiple fabric and finish options, allowing endless personalization.
About Las Vegas Market
https://www.lasvegasmarket.com
Las Vegas Market is a spectacular cross-category buying experience. It offers more than 4,000 lines of furniture, home décor, gift, bedding, lighting rugs and exclusive introductions. There is a 5 million-square-foot campus housing permanent showrooms and three Pavilions showcasing temporary exhibits of unique home furnishings, gifts and fine art.