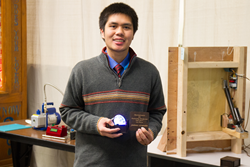 Sierra College students will learn what it means to be a social entrepreneur and take action to ensure a better future for society.
ROCKLIN, Calif. (PRWEB) December 19, 2017
Sierra College students will become agents of change, developing innovation skills, identifying resources and using their passion to address social and environmental problems in the new Business 143 Social Entrepreneurship class starting in January on Monday and Wednesday from 12:30 to 1:50 PM at the Rocklin campus. Sign up now for classes starting January 22, 2018 by going to Sierra College registration information.
According to Denise Bushnell, Business Professor, Sierra College, and North Far North Regional Entrepreneurship/Small Business Coordinator, students will gain an entrepreneurial mindset and other 21st century skills sought by employers and useful for startup businesses. "Students in the Business 143 class will learn while following their passion to establish ventures that address social or environmental problems," said Bushnell. "They will learn what it means to be a social entrepreneur and take action to ensure a better future for society."
Students will also work out in the community and participate in a hands-on project at Hacker Lab powered by Sierra College. No pre-requisites are required. The course will teach students how to be problem solvers as they seek ways to address social issues and provide benefits to society. The class will not cover creating a non-profit business.
Sierra College students are inspired by applying their innovation skills to benefit humanity, explained Carol Pepper-Kittredge, Statewide Project Manager, CCC Maker, housed at Sierra College. "Mechatronics 90 students in the capstone class were given memberships at Hacker Lab Powered by Sierra College, through a US Bank sponsored scholarship, to prototype human-centered design solutions," said Pepper-Kittredge.
"At a showcase on Friday, December 8 at Hacker Lab, students pitched their concepts and demonstrated mechatronic inventions that would make a difference in society," said Pepper-Kittredge. "Students presented projects such as a robotic arm, a scientific testing device, an app-activated deadbolt and a water conservation project. James Grande won the social benefit showcase for his 'Water Warden' that reduced the loss of groundwater. He was awarded funding to pursue his prototype further."
Tiffany McCarroll, a May 2017 business graduate of Sierra College, exemplifies students' drive to make a difference in their own lives as well as others, according to Bushnell. "Tiffany and her daughter were homeless when she enrolled at Sierra College in 2013," said Bushnell. "Through the college, she connected with resources and had started taking classes when I became her mentor."
"I saw her passion for helping others as she logged more than 1000 hours tutoring other students, and then developed online student-to-student tutoring and Sunday peer tutoring sessions to benefit students who worked full-time and lived far away from campus," said Bushnell. "Being employed as a tutor allowed her to help others while earning an income to support her family. Most recently, Tiffany introduced an on-campus therapy dog with posted 'office hours' that has consoled over 50 students. The new Social Entrepreneurship course will make it possible for more students like Tiffany to impact their world."
For more information about mechatronics, business classes and other classes as well as the new Business 143 Social Entrepreneurship course, go to the Sierra College website. Hacker Lab powered by Sierra College is a community makerspace open to the public and offers members 24/7 access. Sierra College students can join Hacker Lab for the semester at a reduced monthly rate and reasonable rates are available for individual and family memberships.
About Sierra College
Sierra College District is celebrating its 80th Anniversary in 2016, and the Nevada County Campus in Grass Valley is celebrating 20 years. Sierra College serves 3200 square miles of Northern CA with campuses in Roseville, Rocklin, Grass Valley, and Truckee. With approximately 125 degree and certificate programs, Sierra College is ranked first in Northern California (Sacramento north) for transfers to four year Universities, offers career/technical training, and classes for upgrading job skills. Sierra graduates can be found in businesses and industries throughout the region.