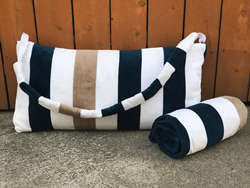 LOS ANGELES (PRWEB) December 19, 2017
The SunPillow, the revolutionary all-in-one luxury pool and beach set that makes relaxing easier than ever, is live on global crowdfunding platform Kickstarter and raising funds to bring the project to life.
Fun in the sun never looked so good thanks to the SunPillow. Designed for anyone who's ever made a trip to the pool with a bag full of accessories or ended up having to use a rolled up t-shirt as a pillow on the sand, the SunPillow is a breakthrough design that will be the best and last product sun-seekers will ever need.
"SunPillow is a solution to an overlooked summer problem! How many times have you gone to the beach/pool and used your t-shirt or created a sand-hill as a headrest?? If you're like me, too many and it doesn't even do the job. Having a real pillow brings your state of relaxation to a new level - once you use it you won't want to be without one," says founder and CEO Christopher Soderling on the inspiration behind the project.
In addition to the luxury pillow, the SunPillow is also a patent-pending, all-in-one for all a beach-goers needs. It comes with multiple pouches, one of which is water-proof and zipper protected, for personal belongings and to keep everything from keys, phones, jewelry and wallets safe. The inner linings of the pillow are also covered with a water-proof fabric, so resting on the pillow case when wet is possible, while the actual pillow itself is protected. The SunPillow also includes adjustable arm straps for the perfect fit and matching towels that are all machine wash and dry safe.
At the conclusion of the crowdfunding campaign, backers of the project will be able to choose from several stylish and fun designs. The product promises to ship right in time for the summer season.
"Immediately upon use of one you'll realize what you've been missing. Why do pillows exist for beds? It's the ultimate way to relax. You work so hard to afford for this time to enjoy yourself - you deserve it," adds Soderling. "Also, I've never met anybody who hasn't lost something valuable while having fun at the beach or pool - this puts an end to that."
The SunPillow is currently live and available to support on Kickstarter: http://kck.st/2BEPOI7
About SunPillow
SunPillow is a product that has revolutionized the experience of going to the beach and the pool. SunPillow is an all-in-one beach bag, towel, and PILLOW set that is your one-stop shop for all things you'll need when you're having fun in the sun.