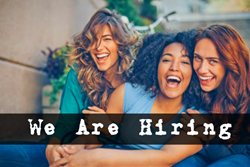 LOS ANGELES (PRWEB) December 19, 2017
WifeKnows.com announced that they are hiring writers to produce articles, blogs, case studies, DIY, and social media content. WifeKnows.com, billed as, a secret place where wives meet to share advise with each other, has thousands of daily readers. Wifeknows.com is seeking expert writers with a Master's Degree in English, Journalism or other related fields with at least five years writing experience. This is a job opportunity that offers writers an easy going stress free writing environment that allows content writers the freedom to let their natural style shine.
WifeKnows.com features in depth coverage on a variety of topics ranging the gamut from appliance shopping to stroller pricing, by women for women. Founded by Abby Larson on the philosophy that women know best, the articles and blogs published on WifeKnows.com are life hacks that discuss the easiest, smartest ways for making informed choices in shopping for products and efficient use of time. The articles, blogs and advise offered on WifeKnows.com tackles life hacks without a dependence on the male point of view. This online portal was founded by women, is staffed by women and read by women and men who have discovered this secret women's haven.
This is a golden opportunity for writers with the skill levels sought to expand their writing career with this popular growth oriented online portal for women by women. The Editor in Chief, Abby Larson explained, "We are seeking Master's level female writers who have great storytelling abilities that match their life experiences and research expertise. Those that can write to the heart and needs of our audience, providing valuable advice along with personal experience. One of the key benefits of writing for WifeKnows.com is having the ability to work in an easy going and low stress environment. The company is ready to hire writers now who love to write and are experts in their field."
This active search to hire expert writers who are looking for a long term writing relationship with a growing portal is happening now. Writing in a stress-free environment with freedom of style and presentation is a dream job for writers. If a female writer is looking to write for a growing audience and loves having freedom this writing job is a perfect fit. All the qualifications for these ongoing jobs for female writers are discussed along with the online application.
Female Writers who fit the qualifications and are looking to take the next step in their career writing for a targeted audience that is steadily growing can apply online now to Wifeknows.com. WifeKnows is looking for candidates that are Microsoft Office certified, have a Master's Degree in Journalism, English or a related field, and love to share in a great storytelling manner. Applicants can find out more details and submit work samples here WifeKnows.com wants to hire TODAY!
Contact:
Abby Larson
WifeKnows.com
44 Wall St # 12,
New York, NY 10005
212-461-7782