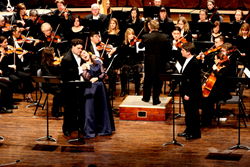 "It is safe to say that the quality and longevity of the KSO is directly related to the pipeline of talent that has emanated from CCM over the past 25 years. That long relationship has not been celebrated until this collaborative production." —KSO Music Director, James Cassidy
HIGHLAND HEIGHTS, Ky. (PRWEB) December 20, 2017
A direct kinship that has helped to sustain Northern Kentucky's own orchestra for 25 years appears formally on stage, as the University of Cincinnati College Conservatory of Music (CCM) and the Kentucky Symphony Orchestra (KSO) collaborate on a production of Puccini's final opera — Turandot. Of the 1,472 orchestral musicians that the KSO has hired to date, 89% have either been current students or graduates of CCM. Hundreds of these musicians have moved on from the KSO to positions in orchestras world-wide (New York Philharmonic, Berlin, Seoul, Philadelphia, Minnesota, Hong Kong, Seattle, Cleveland, etc) and regionally (Cincinnati, Dayton, West Virginia, Columbus, Louisville, Lexington, etc.).
CCM's Opera Department led by Robin Guarino, continues to place graduates on the world's stages. Three faculty members, Amy Johnson (Turandot), Kenneth Shaw (Timur) and Daniel Weeks (Pong), will share the stage with graduate students Yuji Bae (Liu), Robert Stahley (Pang), Samson McCrady (Mandarin), Brandon Russell (Emperor). Chicago Lyric tenor Jeffrey Springer (Calaf) and Metropolitan Opera veteran Vernon Hartman (Ping) round out a stellar cast. Cincinnati Children's Choir - Bel Canto is led by Robyn Lana, while chorus master and CCM alumnus Tony Burdette leads members of the Voices of the Commonwealth, KSO Chorale and CCM Opera Department pushing the total forces on stage to nearly 200.
"It is safe to say that the quality and longevity of the KSO is directly related to the pipeline of talent that has emanated from CCM over the past 25 years. That obvious relationship has not been celebrated until this collaborative production," KSO Music Director, James Cassidy commented.
The KSO has presented several complete concert operas including Tosca, Otello, La Boheme, Rigoletto and Samson & Delilah. Concert operas allow the listener to focus on the music, story and the performers, who enter and exit as they would in a fully-staged production. There are no costumes or sets, just English supertitles projected above the orchestra.
Turandot is set in Peking (now Beijing) and tells the ancient tale of a Prince who warms and eventually wins the heart of the Ice Princess Turandot. Many suitors lose their heads when they can not answer the Princess's three riddles. Don't miss the show stopping tenor aria "Nessun Dorma." Sung in its original Italian, the opera is in three acts with two brief intermissions. Join the KSO and CCM as the warm blood continues to flow (figuratively, of course) to start 2018.
Grand opera appears in the Tristate six months early (before the Cincinnati Opera season) as KSO Music Director James Cassidy (also a CCM grad) and kinfolk from the KSO & CCM Opera team up for Turandot, 7:30 p.m., Saturday, January 27 at Greaves Concert Hall on the campus of NKU. Tickets are $35, $27, $19 (children ages 6-18 are 50% off all ticket prices) and are available online at kyso.org, by phone at (859) 431-6216, or at the door.
About the KSO:
For 25 years the Kentucky Symphony Orchestra has taken the "phony" out of symphony by eliminating traditional barriers and presenting engaging, live, thematic concerts that enrich, educate and entertain the residents of Northern Kentucky and Greater Cincinnati. The KSO performs three series of concerts annually throughout Northern Kentucky.