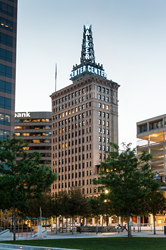 Our new downtown hub positions the College well to accelerate the expansion of our unique, innovative education delivery model throughout the United States.
SALT LAKE CITY (PRWEB) January 03, 2018
Nightingale College announces its relocation to one of the most recognized and historic buildings in the heart of downtown Salt Lake City, the Walker Center (175 South Main Street, Suite 400, Salt Lake City, UT 84111).
The College has called Ogden, Utah, home since its founding in 2010. Since its establishment, the College has grown to offer three accredited nursing education programs provided throughout Utah, Idaho and Wyoming; instructs over three hundred learners; and employs nearly one hundred collaborators.
Nightingale's relocation to Salt Lake City will only include the Operations Support Center (OSC) while the current lab site in Ogden will move to Heritage Park Care Center in Roy, a partner of Nightingale College.
The increase in enrollments at the College over recent years triggered the need to move to a more centralized location that will accommodate the company's projected growth. In 2018 Nightingale plans to open nine new Dedicated Distance Cohort (DDCs)(hybrid education sites) and partner with health care facilities in several new states.
"Nightingale College's relocation to Salt Lake City completes its multi-year journey to becoming a bona fide distance provider of undergraduate nursing education. Our new downtown hub positions the College well to accelerate the expansion of our unique, innovative education delivery model throughout the United States," said Mikhail Shneyder, President and CEO. "We are proud to be a Utah company and are thrilled to become part of the thriving Salt Lake business community!"
Recognized for its weather tower that illuminates the Salt Lake skyline with red and blue lights, the 105-year-old Walker Center, originally the Walker Brothers Bank Building, was once known as the tallest building between Chicago and San Francisco. In October 2006, the Walker Center was listed on the National Register of Historic Places.
The building's prime location in Salt Lake City and proximity to the airport make it an ideal site for Nightingale to continue growing and pursuing its Mission.
"As one of Nightingale's first collaborators, it is astonishing to see the amazing people that have joined the College to help us grow," said Jonathan Tanner, Vice President of Partnerships and Business Development. "We are excited for what our future holds and the resources that Salt Lake has to offer."
ABOUT NIGHTINGALE COLLEGE
Nightingale College creates avenues to accessible nursing programs with its fully accredited distance education associate and bachelor's degree nursing programs. Supporting the growing need for nurses and providing strategies to combat the nursing shortage, the College's programs work to not only grow but maintain homegrown nurses with the help of local health care systems. Nightingale College emphasizes graduating future nurses who are confident, competent, and compassionate, ready to work in their community. Since its establishment in 2010 in Ogden, Utah, the College has graduated nurses in Utah, Idaho, and Wyoming. To learn more about the College, its mission, and programs, visit http://nightingale.edu/.