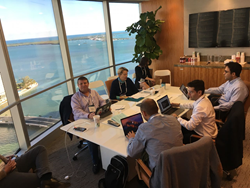 becoming an Endeavor entrepreneur is wonderful validation. We believe firmly that, like manufacturing before it, the services industry will continue to globalize, and the Jobsity model is uniquely designed to help companies take advantage of the benefits of high-quality outsourcing
(PRWEB) December 21, 2017
Today Jobsity LLC., a nearshore staff augmentation firm, announced its selection as Endeavor Entrepreneurs. The announcement comes as Jobsity celebrates 6 consecutive years of double digit growth which have included the initiation of operations in New York, Quito, Medellín, and Cartagena. Jobsity LLC. focuses on hiring and developing top-talent developers with strong technical skills as well as soft skills. Jobsity then provides constant training to its outsourced developers to ensure that its dedicated bilingual teams exceed the expectations of its clients.
The announcement comes on the heels of the celebration of Endeavor's 76th International Selection Panel held in Miami on the 11th to 13th of December, 2017. Jobsity LLC. joins a cohort of 22 companies that include the 1000th company Endeavor has sponsored.
Remarking on the company's inclusion in the Endeavor program, founder and CEO Andrés Garzón noted that, "becoming an Endeavor entrepreneur is wonderful validation. We believe firmly that, like manufacturing before it, the services industry will continue to globalize, and the Jobsity model is uniquely designed to help companies take advantage of the benefits of high-quality outsourcing. Our goal is to be transformational both for our clients as well as our employees. Endeavor will be a strategic partner for Jobsity in continuing to scale and reach new heights".
Endeavor is an international network of mentors, investors, and entrepreneurs who work together to mentor emerging businesses across 13 countries. Endeavor's rigorous selection criteria and process include examining a company's growth potential, business model, social impact, and leadership. Endeavor Entrepreneurs have generated thousands of jobs and billions of dollars in revenues.
About Jobsity LLC: Jobsity LLC. is a nearshore staff augmentation company with offices in New York, Ecuador and Colombia. Jobsity works on behalf of its clients to identify, hire, and continually train talented bilingual programmers. Jobsity's clients have included companies such as NBC, Walgreens, The Disney Channel, and Bloomberg.