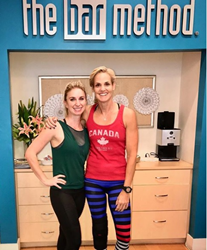 Dara's presence either in or out of class adds so much to the experience for our community. They leave feeling centered and in touch with their inner personal strength. We love watching women of all ages and capabilities get stronger and proud of themselves. - Sarah Bauman
WELLESLEY, Mass. (PRWEB) December 20, 2017
First friends, now business partners Dara Torres and Sarah Bauman have one thing in common, "how can we make women's lives better?" Boston's first women of fitness now co-own one of the 111 Bar Method studios in North America based in Wellesley, MA. Dara Torres, the first U.S. swimmer to compete in five Olympics, and a 12-time Medalist is joining Sarah Bauman, a famed attorney and mother of four young children to service the exploding fitness need of women in the greater Boston community.
Dara is thrilled about becoming part of the fitness revolution hitting Boston. "When I moved to Boston, I wasn't sure if I was going to be able to find a community of women who valued being in shape as a part of their everyday lifestyle. Was I surprised! Sarah is so indicative of the passion for fitness here. I feel totally at home."
The Bar Method is sweeping the country as franchises are popping up everywhere. The signature "Bar Method" uses your own body weight, the ballet barre and a few props to create a transformative workout that results in long, lean sculpted muscles. Torres and Bauman are dedicated to helping women get healthy, fit and strong.
The Bar Method was created under the guidance of physical therapists to ensure it is safe and effective for students spanning a wide range of abilities including those with physical limitations and injuries. The signature technique aims to reshape the entire body.
"During Dara's first class, it was clear that she was not only motivated and incredibly strong, but she fit right into our inspirational environment," shared Bauman. "We each have a different set of experiences that we bring to manage the studio, and our clients are awed by her accomplishments, and moved by her warmth. It's an especially exciting time for all of us, because Dara is among a group of five instructor trainees who will be certified as teachers in early 2018."
Bauman went on to say, "Dara's presence either in or out of class adds so much to the experience for our community. They leave feeling centered and in touch with their inner personal strength. We love watching women of all ages and capabilities get stronger and proud of themselves."
The studio offers student and teacher discounts that support the many schools in and around Wellesley such as Wellesley College, Babson College and MASS Bay. The Bar Method Wellesley often partners and collaborates with other Wellesley businesses and a number of charity organizations supported and promoted throughout the year. The studio additionally offers a selection of chic performance apparel from brands like Spiritual Gangster, and ALO. Lockers, towels, beauty products, filtered water, teas, and private changing areas are complimentary for all.
The Bar Method Wellesley is located at 66 Central Street, Suite 16, Wellesley, MA 02482. For more information or to become a member, visit http://www.barmethod.com/wellesley or call (781) 772-2110. Bauman is also the owner of the newly opened Bar Method studio in Winchester.