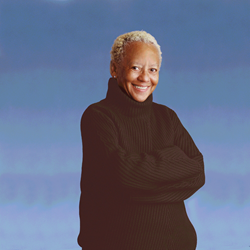 SALT LAKE CITY (PRWEB) January 02, 2018
Salt Lake Community College and Westminster College welcome celebrated poet, writer, activist and educator Nikki Giovanni to SLCC's Grand Theatre on Thursday, Jan. 18, at 7 p.m., as the 2018 Martin Luther King Jr. Commemorative Keynote speaker. The ticketed event is free and open to the public. Seats may be reserved online at grandtheatrecompany.com.
Giovanni will read from her latest works, then be joined by SLCC Poet Laureate, Lisa Bickmore for a follow-up conversation. This special event is part of each institution's 2018 Martin Luther King Jr. celebration and the Bastian Foundation Diversity Lecture Series hosted by Westminster College. Westminster and SLCC partnered to bring Giovanni, one of the most prominent American poets, to Utah – making her inspiring words and presence available to the community.
Giovanni has been dubbed the "princess of black poetry," a "national treasure" and one of Oprah's 25 Living Legends. Her poetry is both edgy and accessible. She writes about race, violence, family, grief, love and friends with informal beauty that's been embraced by multiple generations. At 74, she recommends old age: "it's fun." Giovanni is a university distinguished professor at Virginia Tech. She has written and edited numerous books of poetry and works for children.
Giovanni was born in Knoxville, Tenn., and grew up in Lincoln Heights, an all-black suburb of Cincinnati, Ohio. She graduated with honors from Fisk University in 1968, after which she attended the University of Pennsylvania and Columbia University. She published her first book of poetry, "Black Feeling Black Talk," in 1968, and within the next year published a second book, thus launching her career as a writer. Her latest book is "Bicycles: Love Poems" (William Morrow). She has 25 honorary degrees, seven NAACP Image Awards and has been nominated for a Grammy, been a finalist for the National Book Award and authored three New York Times and Los Angeles Times best sellers. 
What:
Poet Nikki Giovanni
A Bastian Foundation Lecture Series Presented by Westminster College in partnership with SLCC
Where:
SLCC Grand Theatre
1575 South State
Salt Lake City, Utah
When:
January 18, 2018
7–8 p.m.
Tickets:
Free, reserve seats online at grandtheatrecompany.com.
Westminster is a private, independent and comprehensive college in Salt Lake City, Utah. Students experience the liberal arts blended with professional programs in an atmosphere dedicated to civic engagement. With the goal of enabling its graduates to live vibrant, just and successful lives, Westminster provides transformational learning experiences for both undergraduate and graduate students in a truly student-centered environment. Faculty focus on teaching, learning and developing distinctive, innovative programs, while students thrive on Westminster's urban Sugar House campus within minutes of the Rocky Mountains. For more information, visit http://www.westminstercollege.edu or follow WestminsterSLC on Twitter, Facebook and Instagram.
Salt Lake Community College is an accredited, student-focused, comprehensive community college meeting the diverse needs of the Salt Lake community. Home to more than 60,000 students each year, the College is Utah's leading provider of workforce development programs. SLCC is also the largest supplier of transfer students to Utah's four-year institutions and a perennial Top 10 college nationally for total associate degrees awarded. The College is the sole provider of applied technology courses in the Salt Lake area, with multiple locations, an eCampus, and nearly 1,000 continuing education sites located throughout the Salt Lake Valley. Personal attention from an excellent faculty is paramount at the College, which maintains an average class size of 20.
The B. W. Bastian Foundation generously sponsors the Bastian Foundation Diversity Lecture Series at Westminster College. The Foundation, established in 1996 by entrepreneur and philanthropist Bruce W. Bastian, strives to build community and understanding by supporting local and national institutions. Financial support is directed to educational outreach, cultural and HIV/AIDS programs. A strong commitment is placed on programs and organizations that benefit, encourage, and preserve the rights of individuals and promote equality for the Gay, Lesbian, Bisexual and Transgender community. Entering its 18th year in Fall 2017, the Diversity Lecture Series is one of the college's most stimulating and thought-provoking initiatives that reflect its commitment toward the active and critical engagement of timely and relevant issues of diversity and inclusion.