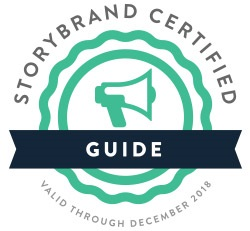 Most businesses struggle to be found online, and when they are found, their message may not be clear to the potential customer as to what their business does and the problems they solve." said Ken Tucker
ST. LOUIS (PRWEB) January 03, 2018
Ken Tucker, founder of Changescape Web in St. Charles, has just completed training to become the first StoryBrand Certified Guide in the St. Louis metropolitan area. StoryBrand is only certifying a select number of guides each year, and each applicant undergoes a screening process before being accepted into the program.
The StoryBrand Guide certification is based on the book, Building a Story Brand, Clarify Your Message So Customers Will Listen, by Donald Miller. Its framework is built around an approach to connecting with customers that makes a brand simple and effective. It revolves around helping customers understand the benefits of using the products, ideas or services being sold by teaching:

The seven universal story points all humans respond to
The real reason customers make purchases
How to simplify a brand message so people understand and act on it
How to create the most effective messaging for websites, brochures and social media
To become a StoryBrand Certified Guide, Ken attended an intensive 4-day workshop, taught by Donald Miller, where he learned how to implement the proven method of using story to increase sales. The same formula has been used globally by thousands of companies in their commercials, print ads and web-based marketing.
Mr. Tucker also became a StoryBrand Certified Copywriter at the workshop.
The StoryBrand Guide certification enables Ken to apply this same framework to his own messaging and those of his clients. Using the theory in websites, lead generating pdfs such as ebooks, email blasts, keynotes and elevator pitches can help create compelling messaging that stands out.
"Most businesses struggle to be found online, and when they are found, their message may not be clear to the potential customer as to what their business does and the problems they solve. What excites me about being a StoryBrand Certified Guide is that we have now added a great framework to attract leads and to convert website visitors to become customers. You can drive all the traffic you want to your website, but if it doesn't convert you are wasting money." Tucker said.
Changescape Web is now offering a Sales Funnel in a 1 Day Workshop to deliver rapid results for clients using the StoryBrand framework. The funnel includes the creation of a website / landing page, lead generation content, email marketing automation sequence, a sales letter, and ad campaign design to drive traffic and generate leads.
In addition to this latest certification, Ken also is certified in other areas of marketing, including:
Certified Master Duct Tape Marketing Consultant, whereby he underwent vigorous training to determining a business's ideal customer, learning how to develop and utilize effective content, nailing down a process for tracking results, finding a key competitive advantage for the company, and so much more.
Inbound Marketing Certification. This certification provides Ken with the knowledge and skills to help businesses develop and implement a modern inbound marketing strategy, which integrates SEO, blogging, landing pages, lead nurturing, and conversion analysis to increase and retain customers.
Certified SEO for Growth Consultant. St. Louis SEO for Growth is a top St. Louis digital marketing agency that is based on the principles of effective search engine optimization.
About Changescape Web
Changescape Web was founded in 2005 by Ken Tucker. They focus on building websites that generate customers for clients in the St. Louis and St. Charles metro area, as well as across the U.S. Changescape Web services include Marketing Strategy, Website Design, Search Engine Optimization, Social Media, Lead Generation, Marketing Automation, and Managed Marketing Services. Their top priority is helping clients grow their business through a comprehensive, holistic approach, utilizing the Inbound Marketing Methodology.
Changescape Web was selected as a Top Local Agency in 2016 and 2017 by UpCity, which is a comprehensive project management, SEO, local, social and reporting platform.
About StoryBrand
When it comes to talking about their businesses, many people are so close to their products or services they don't know where to start. The StoryBrand Marketing Framework helps companies understand what customers are looking for so they can tell their story in such a way people listen. If customers are confused about what you offer, they'll look past you for somebody who can say it clearly. Companies that clarify their messaging win in the marketplace. StoryBrand can help you clarify your message at storybrand.com.