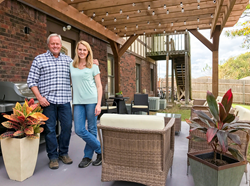 "I wanted to share the great work going on at Manna House with our audience – hopefully to empower homeowners across the country, and inspire them to pay it forward and do great things in their own communities."
MOBILE, Ala. (PRWEB) December 21, 2017
As part of its 20th anniversary season on national television, Today's Homeowner TV will feature a special community service episode during its holiday lineup. The episode, titled "Helping Hands," will debut broadcast week of December 25 on the brand's 214 partner stations throughout the U.S.
The idea of featuring a community service project on his national show isn't a new concept to Host and Executive Producer, Danny Lipford. Past seasons have included highlighting the great work of Habitat for Humanity and other organizations. Additionally, Lipford and his crew assisted a homeowner with physical limitations make needed repairs to her Mobile, AL, residence, and shared the experience with his audience in a "Today's Homeowner Helps Out" episode last season.
To mark the 20th anniversary season of his TV show, Lipford again wanted to showcase the good work going on around the country in the home improvement industry. He and his crew met up with the Home Builders Association (HBA) of Greater Tulsa and their Remodelers Council to create an inviting outdoor living area at Manna House, a residence which assists young women transitioning from foster care to adulthood.
Volunteers worked to renovate the home's back patio, taking it from basic to brilliant in a single day.
"I'm always amazed at what people can accomplish when they work together, says Lipford. "I wanted to share the great work going on at Manna House with our audience – hopefully to empower homeowners across the country, and inspire them to pay it forward and do great things in their own communities."
Nearly 20 volunteers and crew made the following improvements to the space:

Cleaning and adding fresh paint to the patio slab
Construction of a wood pergola to provide shade and ambiance to the patio
Relocation of the air conditioner condenser unit to provide more usable patio space
Installation of a bike rack for residents
Addition of outdoor lighting
The project was funded with a grant from the HBA Charitable Foundation. Several local and national vendors such as Overstock.com, Southern Patio and SouthWire contributed finishing touches to the project including plants and planters, new outdoor furniture and a new grill.
All of the projects, how-to steps, spirit of service and the big reveal will be part of the "Helping Hands" episode next week. Viewers can visit TodaysHomeowner.com/find-a-station to find their local station and airtime.
Today's Homeowner plans to collaborate on additional community service projects in 2018.
ABOUT DANNY LIPFORD & TODAY'S HOMEOWNER
Danny Lipford, is among the most sought-after home improvement experts in the country and host of the Emmy-nominated, nationally syndicated Today's Homeowner Television Show, now in its 20th season. Today's Homeowner airs on 214 stations and reaches 110 million homes nationwide. As a seasoned contractor and media host, Danny served as the home improvement expert for CBS's The Early Show and The Weather Channel for over a decade and has made more than 180 national television appearances. He travels the country making appearances as a brand ambassador and spokesperson, and contributes expertise to hundreds of popular magazines and online media outlets each year. For more information, visit: TodaysHomeowner.com and AboutDannyLipford.com.
HOME BUILDERS ASSOCIATION OF GREATER TULSA
The Home Builders Association of Greater Tulsa is a not-for-profit, professional trade organization that is an advocate for the residential housing and remodeling industry in communities in and around Tulsa and serves approximately 1,000 members. The association is a corporate channel through which builders contribute time, money and services to local community service projects and education initiatives. Professional members must meet stringent requirements, including customer and professional references, insurance certification and adhere to a strict code of ethics. For more information, visit: TulsaHBA.com.