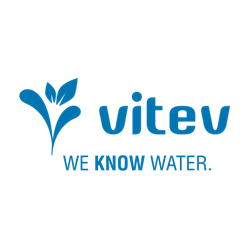 TORONTO (PRWEB) January 09, 2018
Independent testing confirms Vitev's line of mineral based alkaline water filters provide therapeutic and long-lasting levels of molecular hydrogen. Vitev's process of creating molecular hydrogen relies on a simple reaction between pure magnesium and water. The oxygen in a water molecule is more attracted to the magnesium than it is to the hydrogen, so when it breaks off, the hydrogen is released to disperse freely into the water, raising the concentration of free hydrogen.
Lab tests demonstrate that Vitev alkaline water filters perform well within the range needed to experience the benefits of molecular hydrogen, and are capable of generating this hydrogen benefit over the life of the filter.
"We've known since we started making natural alkaline water ionizers back in 2010 that our mineral recipe created hydrogen, but it's great to have a testing mechanism available now to measure it," said Vitev President Gabe Hunninghake. "It's also great to see the growing number of studies demonstrating molecular hydrogen's benefits."
With more than 700 peer-reviewed articles demonstrating hydrogen's therapeutic potential for nearly every organ of the body and in 170 different disease models, there is no question that there are endless health benefits to healthy drinking water.
Vitev prides itself on manufacturing holistic water filters, something they see as a declining trend in the alkaline water industry. "One thing we've noticed over the years is how quickly companies and distributors market the newest shiny characteristic. It started with pH levels, then moved to oxidation reduction potential, and now seems to be molecular hydrogen. All credit for the improvement in how people feel when drinking the water is attributed to it. We don't think that's the way this works. We think customers want well-rounded water that is filtered really well so it's safe, then mineralized with an improved pH, and finally polished with antioxidant molecular hydrogen," adds Hunninghake.
Vitev continues to lead the market in naturally created alkaline water since 2010, and was the first company to provide mineral-based alkaline water filtration systems manufactured in the US.
More About Vitev:
Founded in 2010, Vitev truly knows water! Vitev is built on knowledge and expertise, founded on a technical understanding of water, in contrast to many competitors. From innovation and development, to manufacturing, Vitev is hands-on throughout the process, and truly understands the nuances of filtration systems in producing healthy alkaline and antioxidant water.
Water is a basic human need, and access to healthy drinking water should not be tainted with misinformation, marketing ploys, and an exuberant price tag. Vitev water is an affordable option for consumers, and offers various types of drinking water filtration systems, portable options, and water testing kits.
In addition to being innovative, transparent, and affordable, Vitev is also dedicated to consumer education, providing easy access to information and experts with their Water Learning Center; and continues to raise awareness about community water quality, impurities, toxins, and the importance of public access to healthy drinking water.