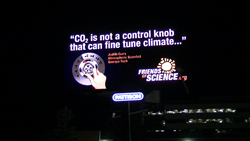 recent research published Dec. 19, 2017 in Nature, reveals how the cosmic rays and the Sun influentially drive climate change. A layman's discussion can be found in the Global Warming Policy Foundation's post of Dec. 19, 2017
CALGARY, Canada (PRWEB) December 21, 2017
On Dec. 11, 2017, a day before the Macron Paris climate change summit, in a story entitled "Exxon to provide details on climate-change impact to its business," Reuters incorrectly reported that world temperatures might rise by 35.6°F because Reuters used a Celsius-Fahrenheit conversion, instead of stating the temperature change equivalencies of 2°C – which turn out to be only 3.6°F, says Friends of Science.
This means Reuters stated a global warming figure which is ten times the scientific estimate. This error may have been more consequential for markets and the general public in the United States where the Fahrenheit temperature scale is the standard.
Friends of Science Society says the real climate change news that should be reported is three-fold.
First of all, the climate models that projected warming have greatly exaggerated potential warming through faulty scaling, as discussed in the Jan. 8, 2014 transcript of the American Physical Society. The climate models (simulations) that projected warming have greatly exaggerated potential warming. Natural warming due to changes in ocean cycles and solar warming during the late 20th century has been mistakenly attributed to human-caused greenhouse gases warming.
Secondly, an IPCC graph shows that recent warming is nominal and mostly due to natural causes (like solar and ocean cycles), not human activity or carbon dioxide, as discussed in Dr. John Christy's Mar. 29, 2017, US Senate testimony.
Thirdly, recent research published Dec. 19, 2017 in Nature, reveals how the cosmic rays and the Sun influentially drive climate change. A layman's discussion can be found in the Global Warming Policy Foundation post of Dec. 19, 2017.
About
Friends of Science Society is an independent group of earth, atmospheric and solar scientists, engineers, and citizens, celebrating its 15th year of offering climate science insights. After a thorough review of a broad spectrum of literature on climate change, Friends of Science Society has concluded that the sun is the main driver of climate change, not carbon dioxide (CO2).
Friends of Science Society
P.O. Box 23167, Mission P.O.
Calgary, Alberta
Canada T2S 3B1
Toll-free Telephone: 1-888-789-9597
Web: friendsofscience.org
E-mail: contact(at)friendsofscience( dot)org
Web: climatechange101.ca