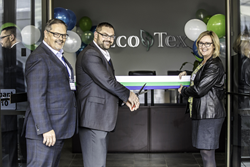 "We are confident that we can provide safety and comfort to patients that inspires trust and confidence," said CEO of Ecotex Randy Bartsch.
SAN DIEGO (PRWEB) January 04, 2018
Ecotex Healthcare Linen Service, one of the Founding Members of the Healthcare Linen Alliance, recently began operating a new facility designed to support the Interior Health Authority of British Columbia. Built in just seven months, the newest Ecotex plant, located in the City of Kelowna, was designed to ensure industry's best practices for infection control of linens supplied to the region's 72 hospitals and clinics.
Interior Health anticipates savings of approximately $35 million over the length of the contract. Outsourcing this service will enable IH to focus on patient care as well as complete upgrades and expansion to emergency rooms and operating facilities.
The Ecotex facility in Kelowna is equipped with the latest equipment and technology to ensure hygienically clean linen processing, while improving ergonomics for employees and streamlining plant operations.
"We are pleased to have the opportunity to work with with Interior Health to provide support service to the region's hospitals by providing a safe and comfortable environment for patient care using smarter linen solutions," said CEO of Ecotex Randy Bartsch. "We are confident that we can provide safety and comfort to patients that inspires trust and confidence, while at the same time offering services to IH in the most financially responsible manner, delivering attentive, high-quality service, employing industry best practices and applying technical excellence."
Ecotex is an established industry leader in environmental sustainability, and is certified Clean Green® for its environmental laundry practices. The facility incorporates the industry's best practices for energy conservation and fresh water use and is designed to reduce the environmental footprint from laundry generated by a health system by more than 60%.
Ecotex has been providing commercial laundry services since 1959, including laundry and linen management services to the healthcare sector for more than 30 years. The company operates hygienically clean-certified linen processing facilities in Canada and the United States. Learn more at SmarterLinenSolutions.com
The Healthcare Linen Alliance includes Ecotex Healthcare Linen Service Corp., Emerald Textiles, Logan's Healthcare Linen Systems, Paris Healthcare Linen Services, Superior Health Linens and Textile Care Services. The group serves a large area covering Illinois, Indiana, Kentucky, Minnesota, New Jersey, New Mexico, New York, Ohio, Oklahoma, Oregon, Pennsylvania, Southern California, Tennessee, Texas, Washington State, West Virginia and Wisconsin, as well as Canada.
About the Healthcare Linen Alliance
The Healthcare Linen Alliance is the better choice for national healthcare laundry. We drive down overall costs for customers through our combined size, scale and coverage. One of the largest commercial healthcare linen services providers in the nation; we serve nearly 1,500 customers and process over 455 million pounds of laundry each year. To learn more about the Alliance please visit HealthcareLinenAlliance.com.