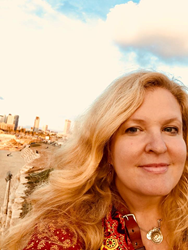 Trips like this take social media metrics out of the realm of possible impressions, and turn exposure into partnerships, programs, and opportunities - tangible conduits for positive change.
LAGUNA BEACH, Calif. (PRWEB) December 21, 2017
Ciaran Blumenfeld is not only the Founder and CEO of Hashtracking; she is a Media Magnet. Part of a collective of powerful and influential women, she has the power to pull people in. When Ciaran and the other Media Magnets put their ideas into the world, people listen, and their energetic presence stretches to inspire others across the globe.
The women who make up this collective media powerhouse were invited to attend a once-in-a-lifetime trip to Israel. "I was thrilled and excited beyond belief to have been nominated and invited to be a part of this first-ever Media Magnet trip to Israel," Ciaran said. Followers look to this group of Jewish influencers as real leaders, and their impact in the media world has genuine power to inspire positive change.
This journey, dreamt up in a joint effort between the JWRP and Israel's Ministry of Tourism, asked the question: What happens when you bring 30 hugely influential Jewish women together in the Holy Land?
Part think tank, part tour group, and part media event, the trip spearheaded by JWRP and the Israeli Ministry of Tourism brought a group of women with a collective reach of over 10 million fans and followers.
"It's not just any trip. We take our Media Magnets back to where it all began- their homeland. The places we go and the experiences we encounter are sure to create deeper connections for each woman individually and with each other" the JWRP explains.
Senior Foreign Affairs Advisor to the President of Israel David Saranga credits social media as one of the main tools to improve the public perception of Israel. The impact can be seen in reports from Hashtracking.com where the trip hashtags #itstartswithwomen, #mediamagnets and #visitisrael generated over 20 million impressions on Instagram and Twitter during the trip days, reaching millions.
On the surface, the trip organizers goals were simple. They wished to unite and empower this group of influencers and change-makers to spread a simple message to the world, that we are all capable of making the world a better place via our actions. This concept is known as "Tikkun Olam" in Hebrew, and it applies to everyone, from every religion, region, and faith. The goal of Tikkun Olam is increased understanding, awareness, compassion and problem-solving.
Mordecai Holtz, the New Media Director of Jerusalem Tourism, met with the group, along with Ilanit Melchior, a female powerhouse executive, and influencer in her own right. Holtz was positive about the visit and feels confident that there will be lasting and tangible effects from the group's visit to Israel. The city of Jerusalem has already seen a significant bump in tourism that they can attribute to past influencer visits and events including the Jerusalem Marathon, and Jerusalem having played host to the TBEX Travel Blogging/Media conference last spring.
"Trips like this take social media metrics out of the realm of possible impressions, and turn exposure into partnerships, programs, and opportunities - tangible conduits for positive change," says Blumenfeld. "I will be gratified to track and follow the lasting efforts and impact created by uniting this group of women in Israel, and challenging us all to change the world for the better. "
Many of the group participants struggled with what their lasting trip impact would be, both personally and professionally, but all felt committed to collaboration on Tikkum Olam projects in the future. From working with Israeli youth, to promoting tourism, to furthering cultural understanding and aide across ethnic, political, and religious lines, each woman in the group was positively touched by the journey. All plan to keep in touch and continue spreading light via their well wired networks.
About Ciaran Blumenfeld:
Named one of the "15 Most Powerful Moms in Social Media" by Working Mother magazine, Ciaran Blumenfeld is a CEO and founder of Hashtracking.com, a social media analytics service that offers valuable insights into the world of hashtags. She is also the publisher of the family lifestyle blog Momfluential.net. Her expertise on Social Media and has seen her opinions featured in Forbes, The New York Times and Fast Company.
About the JWRP:
The JWRP seeks to inspire women to transform themselves, transform their families, their communities, and the world.