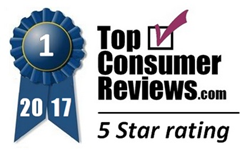 For all these reasons, Learn and Master is our first choice among providers of Guitar Lessons, earning our highest ranking in 2017.
OVERLAND PARK, Kan. (PRWEB) December 22, 2017
TopConsumerReviews.com recently gave another best-in-class 5-star rating to Learn and Master, a leader among online providers of Guitar Lessons.
Anywhere there's music, there's probably someone eagerly playing the air guitar, imagining himself center stage with his favorite band, or seeing herself featured on the latest performance reality show. But, for those who want to move from being a fantasy musician to actually knowing how to play, guitar lessons are essential. Having the right guitar is important, but the next step may prove more difficult as eager students try to find instruction that fits their schedule and budget. For this reason, many guitar players ranging from novice to advanced are using alternative methods of instruction, including websites and video demonstrations.
"Learn and Master has a long track record of providing quality study-at-home instruction, and their Guitar Lessons are some of the best on the market," according to Brian Dolezal of TopConsumerReviews.com, LLC. "Instead of having to pay an instructor every month, Learn and Master provides a wide range of instruction for a low one-time fee. Their Guitar Lessons course includes access to an online forum where the instructors are available to answer questions and offer feedback. We particularly love their 60-day return policy, since many beginners may want the opportunity to try the program and make sure it's a good fit. For all these reasons, Learn and Master is our first choice among providers of Guitar Lessons, earning our highest ranking in 2017."
To find out more about Learn and Master and other providers of Guitar Lessons, including reviews and comparison rankings, please visit the Guitar Lessons category of TopConsumerReviews.com at http://www.topconsumerreviews.com/guitar-lessons/.
About Learn and Master
Legacy Learning Systems, maker of Learn & Master, is headquartered in Nashville, Tennessee. Legacy Learning Systems was founded to produce truly comprehensive multimedia training courses for those who want serious instruction in the comfort of their own homes. The company strives to provide learning that is fun, non-intimidating, and progressive, with each new skill building on the previous one. The first courses offered by Legacy Learning were in music instruction, but other topics related to the arts, hobbies, careers, and other special interests are under development.
About TopConsumerReviews.com
TopConsumerReviews.com, LLC is a leading provider of independent reviews and rankings of hundreds of consumer products and services. From Guitar Lessons to Singing Lessons and Ballroom Dancing, TopConsumerReviews.com delivers in-depth product evaluations in order to make purchasing decisions easier.