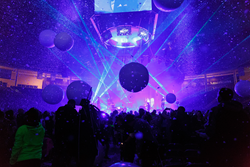 LYNCHBURG, Va. (PRWEB) December 21, 2017
As 2017 draws to a close, Liberty University's campus is buzzing with anticipation for the East Coast's largest Christian New Year's Eve party, the 16th annual WinterFest.
The two-day celebration, which takes place Dec. 30-31 at the Vines Center, features 16 acts, including Crowder, Skillet, Switchfoot, Andy Mineo, and Hollyn, along with comedian John Crist, illusionist Justin Flom, and former MMA champion Chad Robichaux. There is also a free screening of the film, "I Can Only Imagine," in the Center for Music and the Worship Arts Concert Hall. The film tells the story of how the hit song was written and stars Dennis Quaid.
LU Shepherd Executive Director David Wheeler and Liberty's Director of Camp & Outdoor Adventure Leadership Keith Oglesby will speak during WinterFest. This year's theme — "Out of the Ashes" — is based on 2 Corinthians 5:17 and encourages attendees to bring in 2018 anew in Christ.
"WinterFest is going to be the most exciting, family-friendly place to bring in the new year," said WinterFest Coordinator James Hobson.
Attendees will not only hear from top Christian artists, but also enjoy on-campus amenities such as snowboarding or tubing at the Liberty Mountain Snowflex Centre, bowling at the Montview Bowling Alley, and skateboarding at the Liberty Mountain Skate Park.
There will also be a Q & A with several of the artists hosted in the LaHaye Event Space.
New this year is the Student Breakout Session, aimed to help students from middle school to college grow deeper in their relationship with Christ.
Tickets are on sale now through Dec. 31 with a current promotion of buy three, get one free (use promo code GIFT). For a full schedule of events and to purchase tickets, visit Liberty.edu/WinterFest.
About Liberty University
Liberty University, founded in 1971, is the largest private, nonprofit university in the nation and the largest university in Virginia. Located near the Blue Ridge Mountains on more than 7,000 acres in Lynchburg, Va., Liberty offers more than 550 unique programs of study from the certificate to the doctoral level. More than 250 programs are offered online. Liberty's mission is to train Champions for Christ with the values, knowledge, and skills essential for impacting tomorrow's world.