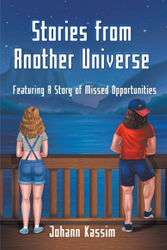 "This collection is a gift to both believers and nonbelievers alike, performing with the power of prose and the veracity of revelation simultaneously." - Charles Asher, book reviewer
(PRWEB) December 28, 2017
"In this collection of stories, poetry, and a short novella, author Johann Kassim presents a collage of fabulous and captivating narratives all taking place in the Autherens, an alternate universe to our own which, through its parallelism, sheds light on both the foibles and brilliance of mankind. Drawing from his own knowledge of the multiverse and an array of theologies, Mr. Kassim reveals essential truths to the reader in literary form … This collection is a gift to both believers and nonbelievers alike, performing with the power of prose and the veracity of revelation simultaneously. I highly recommend 'Stories from Another Universe.'" – Charles Asher, book reviewer
Earth is just one of many worlds; and the Autherens is more than just another universe. This eye-opening work does not have to start with page 1 and continue directly to the end. Readers can skip around, enjoying the tales from many angles, even interjecting different endings than the author intended. Instead of starting at the beginning, read a poem or short story in the middle of the book, and then come back to the main story when the mood strikes.
"Stories from Another Universe" is filled with tales emanating from different genres and is meant to change lives. It features romance, fantasy, humour, and transformational verse that range from awe to horror, religion to morality. There has never been a book quite like it, and once the journey is started, there is no coming back.
About the Author: Johann Kassim was born in Malaysian Borneo. He is a mixture of Scots-Irish and Malay. The author grew up in Kuching, Borneo, and went to school there for the first 20 years of his life. In 2005, he earned a B.A. with honours in history at the National University of Singapore. He has been a teacher, writer, performer and an artist of several different types of work, but his main passion is writing.
Says Publisher Robert Fletcher, CEO of Strategic Book Publishing and Rights Agency, "Take a journey to another universe, one filled with intriguing possibilities. You'll never be the same! We are thrilled to announce the release of this very unique book."
STORIES FROM ANOTHER UNIVERSE: FEATURING A STORY OF MISSED OPPORTUNITIES (ISBN: 978-1-62212-176-2) is now available for $12.50 and can be ordered through the publisher's website:
http://sbprabooks.com/JohannKassim or at Amazon.com or Barnesandnoble.com.
WHOLESALERS: This book is distributed by Ingram Books and other wholesale distributors. Contact your representative with the ISBN for purchase. Wholesale purchase for retailers, universities, libraries, and other organizations is also available through the publisher; please email bookorder(at)sbpra(dot)net.