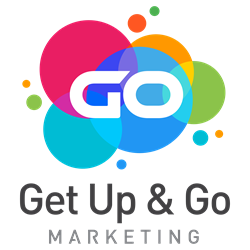 70% of content should be original, sharing lacks originality and demonstrates a lack of passion for the brand
CHELMSFORD, United Kingdom (PRWEB) December 27, 2017
With their business model moving from strength to strength, the firm recently analyzed their social media strategy to ensure they were maximizing their reach while maintaining the integrity of the brand. There are tremendous lessons to be learnt from social media no no's. In fact, the recipe for success is the same as the areas to avoid. Get Up and Go Marketing reveal the lessons hidden in the No, No list
Meet the Managing Director: Get Up and Go Marketing
Too much self-promotion – making all the posts around self-promotion can be damaging to a personal brand, as the missing relatable links can cause followers to disengage. Instead of just identifying the subject of the image, alternatively include the lesson learned, value-added and something to be thankful for.
Tagging people without permission – those posts where random people are tagged for shameless exposure are infuriating to those tagged and offer little value to any audience. Always try to reach out to any tagged, ensuring they have no objections, and limit tagging to three maximum. Create exclusivity to encourage interest.
Linking out – Avoid posting any links that remove someone from the original platform as this was ranked one of the most frustrating elements of social media marketing.
Scheduling doesn't work as well. It's all about live – Live, and original content becomes more visible to an audience than anything posted through scheduling software.
Polished is getting old – Film and shoot content in natural environments to boost relatability and engagement levels. Perfectly positioned uploads are viewed as fake and lack creativity, according to current consumers.
Be original (thoughts on re-sharing) – 70% of content should be original. Sharing lacks originality and demonstrates a lack of passion for the brand. Consumers want to feel the personality of their chosen brands, re-sharing lacks character and will force disengagement over time. For times when re-sharing is essential, be sure to include why the content is relevant to the brand and how it helped develop understanding.
Don't post the same piece on every social platform – Social Media platforms offer different audiences and postings should be tailored to match accordingly. Try choosing two platforms that cater to the audience best and start from there.
Get Up and Go Marketing has a unique approach which has led to excellent relationships with both clients and consumers alike. Priding themselves on their connections they work hard to regularly connect with clients to know what they need and how they want their campaigns to work.
They can then implement this feedback into personalized campaigns, and this benefits consumers as they have a transparent and trustworthy relationship with their favorite brands.
Source: https://addicted2success.com/success-advice/the-absolute-no-nos-of-social-media-break-these-and-everybody-tunes-out/
For more information on Get Up and Go Marketing follow @GoMarketing_ or like them on Facebook.