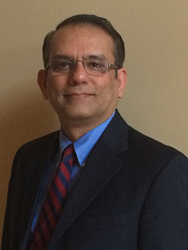 I feel incredibly honored and privileged to serve as the Society's 25th president.
BETHESDA, Md. (PRWEB) January 03, 2018
The American Society of Nuclear Cardiology (ASNC) has named Prem Soman, MD, PhD, FASNC, FACC, FRCP (UKJ) as its 2018 president.
Dr. Soman is Director of Nuclear Cardiology at the UPMC Heart and Vascular Institute, Director of their Advanced Cardiac Imaging training program, and a tenured Associate Professor of Medicine, and Clinical and Translational Science, at the University's School of Medicine.
"I have unbound optimism for the future of the field and the organization. As we move into another year of this glorious journey I feel incredibly honored and privileged to serve as the Society's 25th president," Dr. Soman said, at his acceptance speech at the 2017 Annual Meeting of ASNC.
An active member of ASNC since 2004 and a Fellow since 2006, Soman has made key contributions to the organization and the field of Nuclear Cardiology. He has served on the Executive Council since 2014, Chaired the Society's 2013 Annual Scientific Sessions, and is current Chair of its Leadership Development Program. He was a member of the writing group that developed national guidelines for nuclear cardiology stress testing, and an Associate Editor of the society's flagship Journal of Nuclear Cardiology. Other leadership roles have included Chair of the American College of Cardiology Imaging Council, and President of the Cardiovascular Council of the Society of Nuclear Medicine and Molecular Imaging (SNMMI). In 2016 the SNNMI awarded him the Cardiovascular Council's highest honor, the Hermann Blumgart award and lectureship for outstanding contributions and service to nuclear cardiology.
Dr. Soman has been at UPMC since 2005, when he was recruited there after fellowship and advanced training in cardiac imaging from Tufts University Medical Center.
Nuclear cardiology studies play a critical role in the noninvasive diagnosis of coronary artery disease, the assessment of the pumping function of the heart and in the prediction of treatment effects in patients with heart disease. The American Society of Nuclear Cardiology has been committed, since its inception in 1993, to support purposeful imaging through its expertise in education, health policy and quality initiatives.
Soman replaces Raymond Russell III, MD, PhD, MASNC, FACC, who served as ASNC's 2017 president.
ASNC is the recognized leader in quality, education, advocacy and standards in cardiovascular imaging, with more than 4,200 members worldwide. 2018 marks its 25th year anniversary as the only society dedicated solely to advocacy issues that impact the field of nuclear cardiology and is working with success to influence regulations to fight onerous private health plan policies – adverting reimbursement declines and fighting for improved payment and coverage. ASNC is dedicated to continuous quality improvement, education and patient-centered imaging, illustrating the ongoing commitment as a leader in the field of nuclear imaging and improving patient outcomes. ASNC establishes standards for excellence in cardiovascular imaging through the development of clinical guidelines, professional education, advocacy and research development. ASNC's members are comprised of cardiologists, radiologists, physicians, scientists, technologists, imaging specialists and other professionals committed to the science and practice of nuclear cardiology. For more information, visit http://www.asnc.org