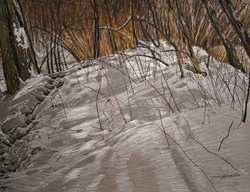 ROCKY RIVER, Ohio (PRWEB) January 04, 2018
Linda Gross Brown began the year with "Footsteps #15" being shown at the 84th Annual National Juried Exhibition of the Hudson Valley Art Association at the Salmagundi Club in New York City. In the past, Linda has been awarded the Pastel Society of America Award and the William Alfred White Memorial Award at the Salmagundi Club.
Later in the year, Linda's "Footsteps #16" was shown at three separate exhibitions: The Fourth International Association of Pastel Societies' Master Circle Exhibition at the IAPS 2017 Convention in Albuquerque, New Mexico; The Artist's Magazine Annual Online Art Competition, where it was named a finalist; and The American Artists Professional League's 89th Grand National Exhibition at the Salmagundi Club, where it won the Allan J. Smith Memorial Award.
In the fall, "Footsteps #7" was exhibited at the Allied Artists of America's 104th Annual Exhibition, again at the Salmagundi Club, where it was awarded the Connecticut Pastel Society Award.
Closing out the year, "Sunset, Gulf of Mexico #2" was recently exhibited at the Degas Pastel Society's 20th Membership Exhibition, and "Footsteps #16" has just been accepted into the Catharine Lorillard Wolfe Art Club's 121st Annual Open Exhibition, taking place from January 9-26, 2018.