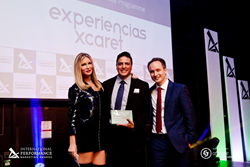 (PRWEB) December 28, 2017
The International Performance Marketing Awards recognized Experiencias Xcaret as the Best Managed Affiliate Program in Latin America. Michel Cervantes, a business-to-business manager at Experiencias Xcaret, accepted the award at the 2017 meeting in London, England.
Xcaret's affiliate program was distinguished as the most successful of its kind based on its 2016 campaign. This thorough review analyzed:

Overall sales performance
Level of growth over the previous year
Revenue generated in both Mexico and the United States
Number of visits to their websites
Total return on investment
The International Performance Marketing Awards honor the teams, collaborators and creators that design successful marketing campaigns around the world, while also acknowledging the different technology used in the process.
This award is one of the largest in the industry, judging marketing campaigns from key regions such as the United States, Latin America, Europe, the Middle East, Asia and Africa. The panel of judges includes representatives from internationally notable companies such as Trivago, LinkedIn, Genie Ventures and Oath. In addition to Experiencias Xcaret, other companies such as Awin, Rakuten, Santander, Chevrolet, Agoda, Tui, New Balance, Vodafone, The Economist and Marin Software were recognized.
ABOUT EXPERIENCIAS XCARET
Experiencias Xcaret is a Mexican-operated company and a leader in sustainable tourism and recreation. It specializes in the most acclaimed nature and adventure parks of Cancún and the Riviera Maya. Xcaret's offerings include Xcaret, Xel-Há, Xplor, Xplor Fuego, Xoximilco Cancún and Xenses parks, as well as the Xenotes Oasis Maya tour and the Xichén brand, which offer visits to the archaeological sites of the Yucatán Peninsula. The company also operates Hotel Xcaret México, the first All-Fun Inclusive resort in the world.