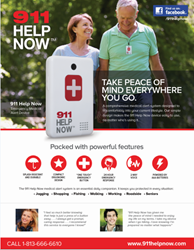 With one touch of a button and no monthly or hidden fees, 911 HelpNow™ immediately connects the user to the nearest 911 emergency operator and automatically opens up a two-way communication.
Largo, FL (PRWEB) February 09, 2017
A personal/medical safety device widely available to consumers of all ages, sizes and genders with no monthly fee may sound too good to be true…but, it is for real!
Today Stealth Technologies, Inc. (STTH), a technology company that develops products for personal and financial protection, announced the widespread availability of its 911 HelpNow™ http://www.911helpnow.com (promo code HELP20 for an introductory 20% discount) life protecting personal and medical safety device. With one touch of a button and no monthly or hidden fees, 911 HelpNow™ immediately connects the user to the nearest 911 emergency operator and automatically opens up a two-way communication. 911 HelpNow™ had previously only been available through an exclusive agreement with a direct response retailer where a total of 64,000 were sold. With today's announcement, consumers will have broader access to the device at the 911helpnow.com promo code HELP20 web site with retail availability to follow.
In the United States, every 11 seconds a senior adult is treated in an emergency room for a fall; every 9 seconds a woman is assaulted or beaten, and statistics show finding an abducted or missing child within the first 3 hours significantly increases the chances of reuniting and surviving. 911 HelpNow™ can help in these and many other situations.
To see the 911 HelpNow video of the unit in action, please visit https://www.youtube.com/watch?v=XM1Pwzx23K4
911 HelpNow™ is a comprehensive emergency alert system designed to fit today's active consumer lifestyle, anytime, anywhere for a one-time purchase cost of $149.99 with no recurring monthly charge (20% discount on purchase with promo code HELP20). 911 HelpNow™ can save users hundreds of dollars annually and provides 24/7 emergency response from the closest 911 operator, 2-way voice communication activated by a "one touch" emergency button, splash resistant packaging and is powered by the convenience of AAA batteries. The emergency alert system is with the user anywhere he or she wants to go…in the car, walking through a dark parking lot at the mall, while out for a jog, or simply at home.
"We all worry about our loved ones young and elderly. 911 HelpNow™ allows a user the freedom of on the go, two- way voice communication to 911 Emergency Service providers with the simple press of a button," said Brian McFadden, CEO of Stealth Technologies and the creator or the device. "We worked to make 911 HelpNow™ as affordable as possible so everyone everywhere can feel more secure in case of an emergency."
About Stealth Technologies, Inc.
Stealth Technologies Inc. is an innovative company with a portfolio of products and intellectual property that solve some of the most challenging issues in security and personal protection facing us today. The Company has developed a suite of products to protect against "electronic pickpockets," emergency response latency, credit fraud protection and cell phone data protection. The Company also has several other products under development and is exploring potential military applications of its proprietary technologies.
About 911 HelpNow™
A comprehensive medical alert system designed to fit comfortably into your current lifestyle. Our simple design allows a user one touch voice communication with 911 Emergency Service Providers all without a monthly recurring fee.
For more information about 911 HelpNow™, visuals, testimonials from users and for an opportunity to test drive a unit for yourself for a limited period, please contact Shep Doniger at sdoniger(at)bdcginc(dot)com or 561-637-5750. Test product availability is limited and will be addressed based on a first come, first serve basis.