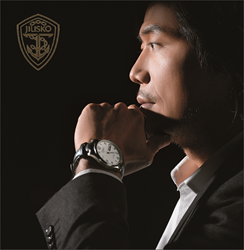 "I want the world to experience the wonders of skillful craftsmanship through affordable options." - Jason Chen, Jiusko designer
(PRWEB) May 02, 2017
Jiusko USA recently unveiled its newly redesigned website, along with an upgraded, competitive five-year warranty and a complimentary 30-day "Love It or Return It" policy. The Guangzhou-based watch manufacturer is winning the confidence of the North American watch community with its Jiusko's Luxury Collection, and the company's new site is just a piece of the puzzle.
Jiusko even gifted watches to various celebrities at the Golden Globes, the Grammys, and the Oscars to help get the word out.
"Our site got a facelift," says Mr. Moshe Gluck, Jiusko's exclusive US distributor, of the new design. "The Lookbooks get heavy traffic, and the feedback and inquiries are overwhelming, but positive and encouraging." He shares: "Every time a customer compares us to the biggest Swiss players, I'm thrilled anew. Like Dr. Thomas Pfenningdorf from Frankfurt, who was at first skeptical, but then returned for a second pick and confirmed his satisfaction through emails and Amazon reviews alike."
Jason Chen, chief designer for the Jiusko Collection, noted, "Twenty years of apprenticeship to major brands gave me the unique opportunity to secrets and connection. To me, the 'tick-tick' is the most fascinating voice in the world."
Originally from Taiwan, Jason started in the industry at the young age of 16. "I loved and studied watches and clocks since childhood." Jason feels a watch reflects personality, and is a form of spiritual communication. He enjoys his work, and noted that his goal is for customers to share the joy in his artwork. "I want the world to experience the wonders of skillful craftsmanship through affordable options."
Before now, obtaining man's most-wished-for timepiece took years of saving. Compiling a decent collection was a luxury reserved for the richest of the rich. No longer. As Ariel Adams, owner of a-blog-to-watch.com, claimed on a Jiusko Tourbillon review: "China already won the 'tourbillon war.'" Adams is enjoying his Jiusko 168 Tourbillon, calling it "a surprisingly competent design and very wearable timepiece."
At last, millennials can dare to compare, choosing true value over popular status brands for their watch collections.
Jiusko. Affordable Luxury. Dare to compare.
https://www.jiuskousa.com/
https://twitter.com/jiusko
https://www.facebook.com/JiuskoWatches
https://www.instagram.com/jiuskousa/
https://www.pinterest.com/jiusko/