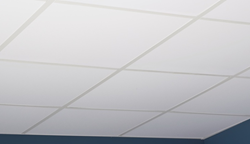 (PRWEB) August 22, 2017
Modern drop ceilings and ceiling tiles were developed to cover up plumbing, electrical wiring and vents/ductwork and turn your ugly ceiling into something better. Over time, new materials led to easier installation but also introduced their own set of problems: lead, asbestos and most lately mold.
Modern acoustical ceiling tiles no longer have issues with lead or asbestos, but become a breeding ground for mold when exposed to any amount of water. New Ceiling Tiles, LLC. Is pleased to announce an addition to our Genesis line: the Forever Ceiling Tile. Engineered for a lifetime, the Forever tile is mold proof, 100% waterproof, washable, bacteria proof and mildew proof. Its impact damage resistant design keeps the tile looking like new even when they have to be moved to work in the plenum.
Mold damage in restaurants, commercial kitchens and food processing plants causes unnecessary downtime. Don't continue the cycle of replacing the same problem ceiling with the same materials and eliminate the problems of mold, spotting, sagging and damage from your ceiling with Genesis and turn that maintenance nightmare into a simple janitorial issue.
The Genesis Ceiling is available online through New Ceiling Tiles, LLC. on their website at http://www.newceilingtiles.com.