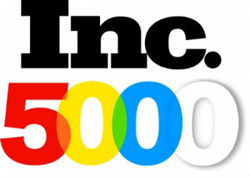 "We value our partnerships with our clients, identifying what their campaigns need to be successful. It goes without saying, their campaign success is our success."
LOS ANGELES (PRWEB) August 24, 2017
For the seventh consecutive year, direct-marketing leader Dial800 is being honored as a mover and shaker on the Inc. 5000 list of America's Fastest-Growing Companies.
Through its call performance marketing solutions, Dial800 has boosted ROI for thousands of businesses, marketers, agencies, and media companies. Its huge selection of easy-to-recall toll-free numbers can be optimized to increase inbound call volume, while its comprehensive call tracking and data intelligence tools help clients track and analyze campaign performances.
"It's an honor to have made the INC 5000 list for 7 consecutive years," states Dial800 CEO James Diorio. "Our success is truly a testament to the quality of our team and the value we deliver to our clients."
"It's really been a collective effort across the company," notes VP of Sales Mike Mezzanotte of the firm's most recent honor. "The continued development of technology and platform enhancements has helped us further support our clients' call routing and campaign management needs. But without question, as always, our better numbers and high-touch client services continue to set us apart."
Earlier this year the privately held firm launched its Leads Marketplace, a free platform for companies seeking to buy and sell live inbound sales leads. It has added immense value to new and existing clients by providing a way to monetize call inventory, as well as deliver instant inbound calls.
The industry leader was also honored by the Los Angeles Business Journal on its 100 Best Places to Work in Los Angeles list for 2016. Earlier this year it was named one of the National Best and Brightest Companies to Work For by The National Association for Business Resources.
The Inc. 5000 list recognizes the fastest-growing privately held firms in the U.S. with annual revenues of $2 million or more. Honorees' names are posted live on Inc.com each year and published in the media organization's print issue each September.
"We continue to manage clients' campaigns with the care and knowledge our company has gained over the past 28 years," Mezzanotte says. "We value our partnerships with our clients, identifying what their campaigns need to be successful. It goes without saying, their campaign success is our success."
Learn more about how Dial800 can drive your company revenues at Dial800.com.