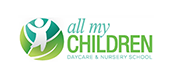 "There is a shortage of quality schools in a neighborhood flooded with children," commented Melanie Felsman, Sr. Manager, Communications for AMC. "We have a formula that has been successful in NYC for 2 decades and we are excited to open up a new center"
New York, NY (PRWEB) May 18, 2017
Holding true to their tag line, "Every Child is a World," All My Children was the first daycare in NYC to promote an eco-friendly environment for children to learn and grow. With over 2 decades of experience, AMC is a premiere daycare for NYC's youth. At All My Children, youngsters are carefully prepared for school- and life-readiness. The safe, nurturing, green learning environment and ethical character define AMC's dedication to the children in their care.
AMC centers utilize The Creative Curriculum, Common Core standards, as well as music, movement, drama, and nature programs. The daycare and school focuses on children's logical thinking, and cognitive and speech development. To meet the needs and interests of the Upper West Side community, AMC will open a Gifted and Talented Test Preparation Program, Emergent Second Languages and Foreign Music class (upon demand).
Thanks to parents and children who have benefited from the other 14 AMC locations, a new center was born out of demand for a new school in the UWS area. All My Children Daycare has announced the opening of its 15th location on NYC's Upper West Side at 101 W. 85th St. The center will offer programs for children under 5 years of age at the state-of-the-art, eco-friendly facility. The center offers a professional staff, a quality education, childcare, hot meals, year-round programming, and much more.The school is set to open May 18th 2017, and runs five days a week from 8 o'clock to 6pm with part-time options.
About All My Children Day Care and Nursery Schools:
AMC provides a holistic approach to education inspired by nature. AMC not only educates the children of today, but cultivates the leaders of tomorrow. By providing children with a nurturing, responsive environment to discover, learn, grow, and realize their potential, children are empowered with school and life readiness skills leading to a brighter tomorrow.
For more details please visit AMC Enrollment
Media Contact
Melanie Felsman
mfelsman(at)amcearlylearn(dot)com
646 861 0664