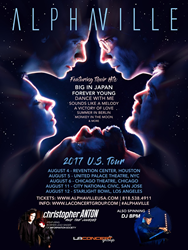 "Perhaps you've only grown up when you can bear not being understood." - Marian Gold
Los Angeles, CA (PRWEB) May 09, 2017
LA Concert Group proudly announces that international sensation Alphaville will be visiting USA in August for a five city tour from August 4th to August 12th of 2017!
The German synth/pop icon exploded onto America's music scene in the 1980s. Lead singer Marian Gold's smooth falsetto voice, combined with the band's driving beats and synth backing made Alphaville's music a staple of the time. Their classics will be forever synonymous with the greatness of the 80's, and decades later their music is as electric as ever. Several of their singles have topped the US charts, including: "Big in Japan," "Jet Set," "Dance With Me," and "Universal Daddy," and of course "Forever Young."
More than just a nostalgia band, Alphaville has proven to be adaptable with their 2010 album Catching Rays on a Giant, and their newly released album Strange Attractor. Their entire discography spans an impressive seven albums, and their latest album, Strange Attractor, was released in early April of 2017. This newest album includes the new single "Heartbreak City," and presents a sound that may differ from what Alphaville fans have come to expect - it is darker than its predecessors, and while still keeping to its roots of their synth sound, has a deeper feel, with a more ethereal-rock edge. Influenced largely by traumatic events of recent years, Strange Attractor showcases a band that who has grown and matured through the years, exploring new territories while staying true to their origins.
Front man, vocalist, composer, and founder Marian Gold has been with the band since its inception, and is joined on stage now by keyboardist Carsten Brocker, drummer Jakob Kiersch, bassist Alexandra Merl, and guitarist Dave Goodes. Together they will present an electrifying evening of music that is sure to be remembered.
The 2017 USA Tour includes: Houston TX on Friday August 4th at the Revention Center, New York, NY on Saturday August 5th at the United Palace Theatre, Chicago IL on Sunday August 6th at The Chicago Theatre, San Jose CA on Friday August 11 at the City National Civic, and ending the tour in Los Angeles CA on Saturday August 12 at the outdoor Starlight Bowl Amphitheatre. Each of these venues present a different setup and have their own unique features.
Opening entertainment will be provided by Christopher ANTON and the Joneses (feat. former lead singer of Information Society). They will be sure to get the party started with their own brand of high-energy Synth-Rock, Pop, Dance and New Wave music! Opening mixes will be provided by and DJ BPM.
Tickets and tour information are available at http://www.AlphavilleUSA.com