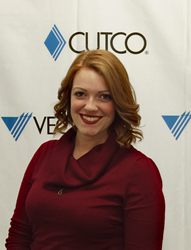 Vector is so much more than a knife company, and I'm excited to show that to the world.
Olean, NY (PRWEB) May 11, 2017
Vector Marketing, the sales and marketing arm of Cutco Cutlery, has named Allegany, New York resident Alysha Summers its social media coordinator. In her new position, she will be responsible for creating content and promoting the company's brand across social media platforms to reach out to some of the most ambitious and motivated college students across the nation.
Each year, Vector Marketing contracts with tens of thousands of student sales representatives to sell the world's finest cutlery. These Vector sales representatives are responsible for millions of dollars of Cutco sales annually, and Summers will reach out to them through social media.
Already, Summers efforts with Vector's field support and social media departments has helped the company reach more than 1 million views on Snapchat. Her passion for content creation, digital marketing and social media make her an ideal choice to lead the company's social media efforts, said Vector's digital strategy director Mike Monroe .
"Alysha has the skills and knowledge necessary to help people engage with Vector's world-class brand," said Monroe. "She will excel at helping our target audience see what valuable sales and business training Vector can provide."
Summers joined Vector Marketing in 2009 while attending Jamestown Community College in Olean, New York. She has worked for Vector in customer service, as an online support specialist, and in the field support and social media departments.
Summers grew up in Olean, where Vector Marketing is headquartered, and says that she "lives and breathes Vector." Her new position makes her excited to go to work each morning, because she loves creating content for social media. "It feels like a second language to me, if not the first," she said. "Vector is so much more than a knife company, and I'm excited to show that to the world."
About Vector Marketing:
Vector Marketing is the marketing and sales arm of Cutco Cutlery, a 65-year-old company with headquarters and manufacturing facilities in Olean, New York. Vector sells Cutco products through a national team of sales representatives primarily consisting of motivated college students who are trained to do in-home and virtual demonstrations on a pre-set basis. Vector Marketing has over 200 locations nationwide and works with students of all majors with any levels of professional experience.